This is the Morning Shift, our one-stop daily roundup of all the auto news that's actually important — all in one place at 9:00 AM. Or, you could spend all day waiting for other sites to parcel it out to you one story at a time. Isn't your time more important?
---
1st Gear: Chrysler, UAW Ink Deal
According to Chrysler, this morning "Chrysler Group LLC and the UAW have reached a tentative agreement on a new national labor contract, covering approximately 26,000 represented employees. The agreement is subject to UAW member ratification. At this time, we cannot discuss the specifics of the agreement pending a ratification vote — an internal UAW process." So, that's good news. Especially given this week's news from Bloomberg that Chrysler is propping up Fiat. That's right, Chrysler is due to beat Fiat's operating profit by 87% in the second half of 2011 and into 2012.
---
G/O Media may get a commission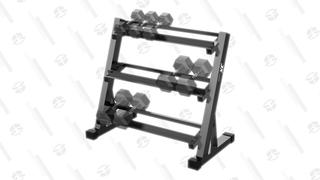 20% Off
JX Fitness Dumbbell Rack
Gains but tidy
Has a three-tier design to help store more weights more conveniently, can safely support up to 1000lbs of weight, which should be enough for most people, has a triangle base for stability, and also features anti-scratch feet which is great if you've built your own studio or workout in your garage.
2nd Gear: The New Ferrari GT Is Coming
AutoExpress claims Ferrari will unveil a replacement for the 599 GTB Fiorano at next year's Geneva Motor Show. The new two-seat supercar is expected to be more powerful and lighter than before, making it one of the company's fastest-ever models. Prototypes of the new car, codenamed F152, have already been spotted near the firm's Maranello base in Italy. Positioned as an out-and-out hyper GT, the new 599 will feature an even more powerful version of the FF's 6.3-litre V12 direct-injection engine, producing 700 bhp. That will make it the most powerful car in the range, with 50 bhp more than the FF and 88bhp more than the current car. Bu, unlike the FF, it won't feature four-wheel drive — instead, power will be sent to the rear wheels through the FF's seven-speed twin-clutch transmission, with an F1-style electronic differential. Sounds snazzy to me.
---
3rd Gear: Saab Loses Chinese Bid As Savior Pangda CEO Reaffirms Commitment To Saab Deal
According to Reuters, Saab seems certain to go into bankruptcy after one of its potential Chinese investors announced today that it would no longer go through with its rescue deal. Speaking at the Global Automotive Forum in Chengdu, China, the chairman of Pangda, which had planned to jointly invest £210 million into Saab with Zhejiang Youngman Lotus Automobile, said the offer was no longer valid he reaffirmed his confidence in the deal's success. (Reuters has updated their original article, and we believe, sacked the translator)
---
4th Gear: Toyota To Face Three Unintended Acceleration Trials
According to Bloomberg, Toyota will face three trials in 2013 over sudden-acceleration claims in federal court in Santa Ana, California, a judge said. The first trial, set for Feb. 19, 2013, will cover claims by the families of two people who were killed in a crash in Utah in 2010, U.S. District Judge James V. Selna in Santa Ana ruled yesterday. That lawsuit, dismissed last month on jurisdictional grounds, was reinstated after the families re-filed their claim. The judge also scheduled the first trial over claims of economic loss tied to unintended acceleration for July 2013 and a second wrongful death case for November 2013. But, the good news is Selna claims he'll probably limit the economic loss trial to claims from car owners in three states.
---
5th Gear: GM Will Revive The Electric Car
According to the Detroit News and Green Car Reports, GM plans to introduce a pure electric version of the Chevrolet Spark minicar in the U.S. market. GM unveiled the 'lectric Spark in June as the Chevrolet Beat EV that is sold in India. They're expected to officially announce the car today. Revenge of the Electric Car, indeed.
---
6th Gear: First 25 Oprah-Awarded 2012 Volkswagen Beetles Delivered Tomorrow
The Car Connection is reporting that the first 25 of 275 Oprah audience members who snagged themselves a free 2012 Volkswagen Beetle, will be getting them tomorrow. Since delivering 275 cars at the same time is a logistical nightmare, the remainder of the awarded 2012 VW Beetles will be delivered in the coming weeks, likely by multiple dealerships.
---
Reverse:
⏎ The Deal on Detroit. [Autoextremist]
⏎ Wayne workers reject Ford contract. [Detroit News]
⏎ More models in the pipeline for new 1 Series as BMW goes for broader appeal. [GoAuto]
⏎ Acura TL: A Good Grille and a Better Car Behind It. [Wall Street Journal]
⏎ Toyota hires Kodak lobbyist to lead Washington office. [Automotive News]
⏎ Honda still confirming new NSX is coming. [Autocar]
⏎ German Automakers Endorse a Unified Standard for D.C. Fast-Charging. [New York Times]
⏎ Tigers' bats wake up in Game 3 win over Rangers. [Detroit Free Press]
⏎ 3 major road accidents in China kill 56 people on last day of weeklong holiday. [Washington Post]
⏎ Does this man look like a professional Ford fluffer to you? Yes, he does. This ought to be a positively rich read.
---
Today in Automotive History:
On this day in 1940, cowboy-movie star Tom Mix is killed when he loses control of his speeding Cord Phaeton convertible and rolls into a dry wash (now called the Tom Mix Wash) near Florence, Arizona. He was 60 years old. Today, visitors to the site of the accident can see a 2-foot–tall iron statue of a riderless horse and a somewhat awkwardly written plaque that reads: "In memory of Tom Mix whose spirit left his body on this spot and whose characterization and portrayals in life served to better fix memories of the Old West in the minds of living men." [History]
Photo Credit: erinohara73 / Flickr
Show us your tips!
Got tips for our editors? Want to anonymously dish some dirt on a competitor? Know something about a secret car? Email us at tips@jalopnik.com.
Lost in our new layout?
Click here for the Opposite Lock or Tips forums. Want a more "blog-like" look? Click the button up top next to "Top Stories."
Get more Jalopnik!
Want even more Jalopnik? Want to know which of your friends read us? "Like" us on Facebook and follow us on Twitter.
---
You can keep up with Ray Wert, the author of this post, on Google+, Twitter or Facebook.