Good morning! Welcome to The Morning Shift, your roundup of the auto news you crave, all in one place every weekday morning. Here are the stories you need to know for your next dinner party.

1st Gear: This Does Not Look Good
For a couple years, the Morning Shift story at the beginning of every month was "Another month of record sales!" As the country recovered from the recession—or seemed to, anyway—all that pent-up demand resulted in booming new car sales for months on end.
That's not the story anymore. More and more we're seeing that the party's over. Even as automakers like General Motors post big profits, sales are starting to slide pretty hard, reports Automotive News:
General Motors and Ford Motor Co., behind another weak month for cars, posted declines in U.S. sales for April in what is projected to be the fourth consecutive monthly decline for the industry and the longest losing streak since the market bottomed out in 2009.
GM said volume slipped 5.8 percent behind a 10 percent decline at Chevrolet and 0.3 percent dip at GMC. Volume rose 17 percent at Buick and 9.5 percent at Cadillac. Overall, GM said it cars sales declined 13 percent in April.

Ford's sales dropped 7.2 percent, with demand falling 7.5 percent at the Ford brand and 0.9 percent at Lincoln. It was the fourth straight decline for Ford. The company said car deliveries slumped 21 percent last month, while SUV deliveries edged up 1.2 percent and truck demand slid 4.2 percent.

Overall, analysts expect U.S. light-vehicle deliveries to drop as much as 4 percent when other automakers report April results later today, even as companies and dealers attempt to lure consumers with bigger deals.
G/O Media may get a commission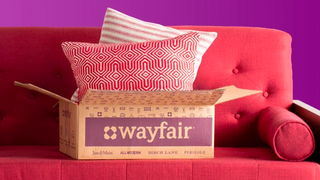 Big deals
Wayfair Surplus Sale
We all know what happened in 2009, so this doesn't look particularly enticing.
Meanwhile, as a consumer, now happens to be a good time to buy a new car. Incentives and discounts are way up more or less across the board, and inventories are stacked to the 90-day level—way above the normal 60-day level dealers generally prefer. But the industry has its long-term health to think about. Record sales can't last forever, but what happens if they fall off hard, for good? This is what Wall Street is worried about.
2nd Gear: Floundering Acura Might Try To Use Hybrids To Be Cool Again
It's no secret that while Mercedes, BMW, Lexus and Audi have flourished under this new SUV craze that has consumed the U.S., poor Acura, with its sedan-heavy lineup, hasn't really felt the love.
So, rather than try to muscle its way into that part of the market, the automaker will try to make exciting hybrids to entice buyers, reports The Detroit Free Press.
From the story:
Honda's struggling Acura brand hopes to reverse its fortunes by building a reputation for sporty hybrid vehicles that deliver smart performance.

The renewed emphasis on performance and hybrid technology harken back to Acura's origins and Honda's brief status as the industry's hybrid leader.
It won't be easy, though. Acura has struggled with a definitive brand image and most people still see it as just a more expensive spinoff of Honda.
I do give Acura mad props for not doubling down on the SUVs. I appreciate it when an automaker tries to do things a little differently. Now it's just a matter of getting the buyers to see things this way, too.
3rd Gear: More Jobs For Canada
After GM said that it would end production of the current Chevrolet Equinox at the Oshawa, Ontario plant sometime in 2017, it was extremely troubling for the Canadian labor union. Happily, though, GM plans to add 535 jobs and a second shift at the plant to build trucks, reports Automotive News.
A memo, obtain by Automotive News, gave employees the option of either retiring, working in trucks or staying in their existing division (management permitting) once the shift happens. The union believes 535 truck jobs will be created by November or December, which will most likely be filled with by the 667 existing employees working on the Equinox currently.
In the second quarter of 2018, a second shift in truck production will launch, in which another 500 jobs will be added.
It's unclear which truck would be produced in Oshawa. GM wouldn't respond to a request for comment from Automotive News. The publication notes that this plan is part of an agreement between the automaker and the union:
Under terms of the four-year collective bargaining agreement GM and Unifor reached in September 2016, the automaker will invest $400 million in its Oshawa facilities.

New tools, machinery and equipment will add capability to the "flex" line to accommodate production of both cars and trucks, which will make it the only facility in North America capable of doing so.

Shortly after the agreement was reached, Reuters reported that workers at Oshawa will install component parts and do final assembly of pickups using bodies shipped from a GM plant in Fort Wayne, Ind.
This last point is important because, again, these plans don't seem to have anything to do with the current U.S. political climate. It was all mapped out, negotiated and agreed upon before Donald Trump took office. It's not all about us, you know.
4th Gear: Samsung, Maker Of Phones And... Driverless Tech
But first, understand that Samsung has no plans to actually make a car. (Cough APPLE cough).
No, the Korean tech giant only wants to advance the development of "deep learning algorithms for autonomous operations," reports Reuters. And it just got permission from the South Korean government to test out its tech.
From the story:
Samsung Electronics Co Ltd has got permission from South Korean authorities to domestically test a driverless vehicle fitted with its electronic parts and software, as the tech giant aims to muscle into the automotive industry in search of a new growth driver.

The land ministry, in a statement issued on Monday, said the car is a modified version of a South Korean car maker's vehicle using Samsung's own components such as cameras as well as its artificial intelligence software.

The firm plans to use the car to develop a self-driving algorithm capable of driving in adverse weather conditions and next-generation components for autonomous cars, the ministry said.
It goes without saying that autonomous cars are the new hotbed for innovation and technology. But, for those who don't wish to create their own self-driving car, they can always try and develop self-driving tech and software, which automakers could potentially purchase and use for their own cars.
5th Gear: Need More Technicians

Here's the problem: aspiring automotive technicians just aren't as numerous as they used to be. At the same time, new cars are so chock full of computers that most technicians need specialized training just to be able to know how fix a problem. And that makes the repair bill for the customer very, very high, which nobody likes.
Fortunately, automakers have recognized this problem and are actively working to correct it, writes The New York Times.
From the story:
It's the dealerships and auto manufacturers banging on doors, eagerly seeking out candidates at job fairs, trade schools and events for veterans. The shortage of qualified technicians is so acute that a year ago, BMW of North America began its own recruiting program, making its pitch to students at postsecondary technical schools and career fairs. While that may be a common practice for multinational corporations, it's unusual in that the job openings will be at independently owned BMW franchises.
Even with automakers actively looking for candidates, it's not easy, according to BMW:
"There's less of a mechanical interest and understanding among young people," said Gary Uyematsu, national technical training manager at BMW of North America, noting that the biggest hurdle in hiring is the difference in basic skills. "They are not hands-on. Mechanics used to start with some gas station experience. Now the experience a person gets working at a gas station is selling slushies."
Lincoln Technical Institute, the national chain that offers courses and instruction in technical training, has dedicated programs with FCA and Audi to help students better prepare for the specialized jobs that await them after graduation.
It's like every industry, though: high demand with a small supply will increase the cost.
Reverse: GM Buys Chevy
Neutral: Why do you think there are fewer and fewer technicians graduating from technical school?