NASCAR apparently timed today's Sprint Cup Food City 500 in Support of Steve Byrnes and Stand Up to Cancer (pheeeeew) just right. It's been delayed and red flagged for rain throughout the day, but Bristol is about to get thoroughly pounded with thunderstorms right about...now.

Here's the radar that shows the line of storms headed to Bristol Motor Speedway as of this writing:
That looks ugly.

NOAA issued a severe thunderstorm warning for the area valid until 11:15 PM tonight but then cancelled it [update: it was replaced with a new warning] even though that there's still a butt-ton of rain headed that way. If for some reason you're reading this from the track, go home! Seek shelter. Camp out in the dry warmth of your hotel room.

G/O Media may get a commission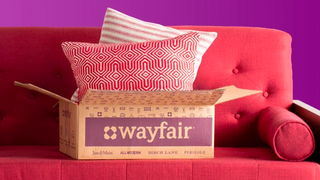 Big deals
Wayfair Surplus Sale
Today's Sprint Cup race race was originally delayed for rain, then once it got going, it was soon red flagged for rain on lap 22. Denny Hamlin retired during the break due to neck spasms he noticed at Lap 12, giving Erik Jones his first ever drive in a Sprint Cup race in the #11 car. As a substitution, Jones had to start from the back of the field.

Joey Logano's crew apparently did too much work towards repairing the car while the race was red-flagged and was kept from working on their car for four minutes after the race restarted under yellow as a result.

The race then continued on for a good, long time under dry-enough conditions. On Lap 274, the race was red-flagged again for a brief spot of rain. Drivers stayed in their cars until the rain passed. After 14 minutes, the race restarted.
Finally, rain came in at the last minute. The cars were allowed to continue for a few more laps past 500, but at lap 506, the race was red-flagged for rain once more. Matt Kenseth was in the lead when the cars were led into pit lane. After a brief drying, cars were let out for a green-white-checkered finish. Kenseth held onto the lead, grabbing his first Sprint Cup win in 51 races. Kenseth's last win was fall 2013 at New Hampshire. It's also his fourth win at Bristol Motor Speedway alone.
Bristol also has the coolest prize for the winner out of any track, ever:

SWORDS. They hand out SWORDS to the winning car. The only thing that could top this would be if they let the winning team do donuts in a tank and use Nissan Altimas for target practice. (You're in Tennessee. Don't tell me there isn't a repository of lemon Altimas somewhere in that state.)
Really, though, those swords are rad.

NASCAR fans, naturally, are now suffering from what I call "Eagles Canyon Syndrome," named for the Texas track that unfortunately gets pounded with ice and snow whenever it attempts to host a crapcan race lately. Eagles Canyon Syndrome is when you take all statistics and probability related to the likelihood of adverse weather conditions, ignore that completely, and make a semi-educated knee-jerk reaction based on the observation of multiple race dates with crap for weather.

Never you fear, NASCAR fans. Multiple years of rain-related delays and shenanigans doesn't make Bristol Motor Speedway Seattle, just like the Fort Worth area isn't, um, okay, maybe they do need to move Eagles Canyon's race dates farther out of crappy weather season. Point taken.

Now that NASCAR is finally done for the weekend, bring all the rain you want, Mother Nature. Just don't tear up the joint.

Photo credit: Getty Images

---
Contact the author at stef.schrader@jalopnik.com.