If there's one thing we know about modern NASCAR, it's that the sanctioning body often takes the most complicated route in order to solve a problem. Look at the points system. But there was a painfully obvious way to go in its most recent "fix" to make a parade of a race more interesting, and NASCAR didn't do it.

In order to make for "improved competition"—basically, making things less boring—in the NASCAR Xfinity Series race at Indianapolis Motor Speedway in July, the sanctioning body announced Thursday that the Xfinity cars will use restrictor plates. The plates restrict air intake to the engine, resulting in slower speeds, and they were only mandated at Daytona International Speedway and Talladega Superspeedway before this recent decision.
But restrictor plates aren't the way to go to make Xfinity competition better in Indianapolis. A few years ago, the Xfinity Series used to have stellar competition at that stop on the schedule—perhaps the best competition of the entire season. That's because the series went to Lucas Oil Raceway through 2011, a short track just 12 minutes away from Indianapolis Motor Speedway.
In 2012, the date at Lucas Oil Raceway disappeared completely for the Camping World Truck Series and moved to Indianapolis Motor Speedway for the Xfinity Series. The year that the sanctioning body announced the move from Lucas Oil, NASCAR reporter Jeff Gluck summed up how a lot of people felt in a column:
Losing a date will be Lucas Oil Raceway (formerly called "IRP" and "ORP"), which is perhaps the most beloved Nationwide [now Xfinity] race of the season.

It's going to be tough for NASCAR to convince fans this is a positive move.

Fans are going to be upset for two reasons: First, because they love LOR; second, because this waters down the history and tradition of both IMS and the Brickyard 400.
G/O Media may get a commission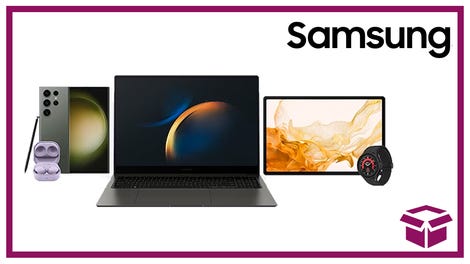 24 hour deals
Discover Samsung - Daily Deal
If you've never seen a race there and don't know why it may have been the most beloved race on the schedule, just imagine what it was like:
The management at Lucas Oil Raceway told the Indianapolis Business Journal in 2011 that the track was "losing some of the best advertising with the loss of NASCAR." But NASCAR lost some of its best competition, all to race at a more prestigious race track that the sanctioning body now wants to use plates at.
Sure, there could be logistical struggles in getting back to Lucas Oil Raceway that just aren't there by "fixing" things with a new rules mandate, but the track would probably take the Xfinity Series back in a heartbeat.
Personally, I felt like my heart had been ripped out the year NASCAR announced the move. It was always on my bucket list to attend a big NASCAR race at Lucas Oil Raceway, and while other touring series continued to go there, the feeling wasn't the same—short-track touring series usually feel old school, no matter where they are. NASCAR usually doesn't. That made it a novelty.
The restrictor-plate mandate just brought back old, bitter feelings about a race that should have never left. If only NASCAR could admit the real problem with racing the Xfinity Series at Indianapolis, I'd at least feel some closure.
If they'd gone with the most obvious fix to the Indianapolis problem—taking the series back to its beloved date at Lucas Oil—well, I might have fainted. But that's just too good to be true.