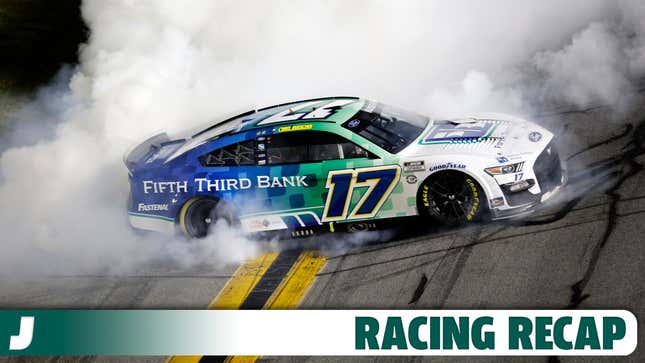 It's Monday, August 28, 2023 and this is Racing Recap, your summary of last weekend's motorsports action. Chris Buescher ended the NASCAR Cup Series regular season on a hot streak, meaning Bubba Wallace could join him in the playoffs on points alone. Changing weather conditions caused chaos at Zandvoort, but Max Verstappen still tied the F1 record for most consecutive race wins. In IndyCar, Josef Newgarden made an ill-timed mistake to take himself out of the title race at Gateway.
RFK 1-2 At Daytona Ends NASCAR Regular Season
RFK Racing driver Chris Buescher was able to win the Coke Zero Sugar 400 with the help of Brad Keselowski, his teammate and team owner. Buescher has been on fire with three race wins over the past five races. NASCAR's regular-season finale at Daytona had all the ingredients to produce a thrilling race on Saturday night.
Over a dozen drivers needed a win to qualify for the playoffs, and it showed on track as the field ran three-wide multiple rows deep. 23XI's Bubba Wallace entered the race in the precarious position of being the first driver above the playoff cut line. A few drivers could have outscored Wallace on points, but they were taken out of contention in the first big wreck.
During the second stage, Christopher Bell bumped his Joe Gibbs Racing teammate Ty Gibbs in the exit of Turn 4. Their bumpers weren't aligned, and Gibbs was sent into Penske's Ryan Blaney, hooking Blaney into a hard head-on collision with the outside wall. However, the wreck that set up overtime was far more startling. Ryan Preece was sent soaring and tumbling in the grass down the backstretch. Preece climbed out of his car but was kept at Halifax Health Medical Center overnight for observation.
Race Results
1. - Chris Buescher (RFK)
2. - Brad Keselowski (RFK) - +0.098 seconds
3. - Aric Almirola (Stewart-Haas) - +0.178 seconds
4. - Chase Elliott (Hendrick) - +0.206 seconds
5. - Joey Logano (Penske) - +0.254 seconds
Verstappen Ties F1 Win Streak Record At Home Race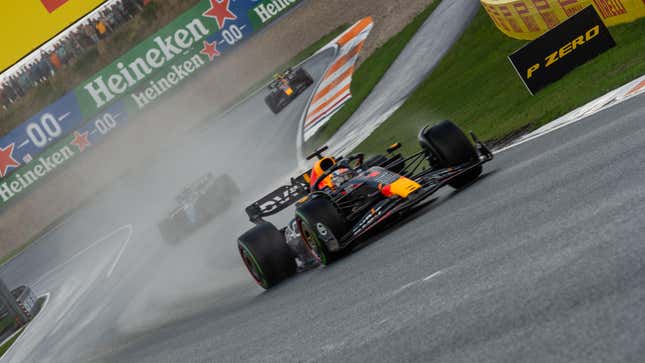 The Dutch Grand Prix had a dramatic opening lap as rain began to fall. Aston Martin's Fernando Alonso was able to drive from fifth to second over the first two laps. Sergio Perez and several other drivers pitted for intermediate tires at the first chance. Perez was able to jump his Red Bull teammate Max Verstappen when he stopped and eventually took the lead.
When the rain stopped, Verstappen was able to undercut Perez when the duo returned to slicks. Heavy rain would start falling on the beachside track on lap 60 of 72. Race control would throw the red flag after Zhou Guanyu went off and beached his Alfa Romeo. However, the race wouldn't be suspended before a Perez error allowed Alonso to move up to second. The Aston Martin driver was close to Verstappen during the restart but couldn't make a move for the lead, leaving the Dutch driver to win in front of a raucous home crowd.
Race Results
1. - Max Verstappen (Red Bull)
2. - Fernando Alonso (Aston Martin) - +3.744 seconds
3. - Pierre Gasly (Alpine) - +7.058 seconds
4. - Sergio Perez (Red Bull) - +10.068 seconds
5. - Carlos Sainz (Ferrari) - +12.541 seconds
Dixon Pulls Off Brillant Fuel Run At Gateway
It's still difficult to believe that Scott Dixon won the Bommarito Automotive Group 500 while taking only three pitstops, with most of his rivals stopping five times. I joke that Scott Dixon knows how to sweat fuel into his car, and today was just another example. Dixon stretched his first stint out to 65 laps, something only Penske's Will Power was able to match.
Takuma Sato crashing out on the race brought out a caution on lap 122 near the midpoint of the 260-lap race. The yellow flag allowed Dixon to make his second stop while everyone else was making their third. Dixon's speed and superior fuel economy allowed him only to worry about making one more stop as everyone else hoped for a caution to keep up.
The closest the race came to another caution was when Josef Newgarden understeered into the Turn 2 wall trying to push on fresh tires. The incident ended the Penske driver's day and his chance at the series championship. Newgarden was also on the verge of sweeping the season's oval races, which hasn't been done in IndyCar in over a century. However, Alex Palou isn't champion yet as Dixon remains mathematically eligible 74 points back.
Race Results
1. - Scott Dixon (Ganassi) -
2. - Pato O'Ward (McLaren) - +22.256 seconds
3. - David Malukas (Coyne) - +22.727 seconds
4. - Alexander Rossi (McLaren) - +1 lap
5. - Scott McLaughlin (Penske) - +1 lap