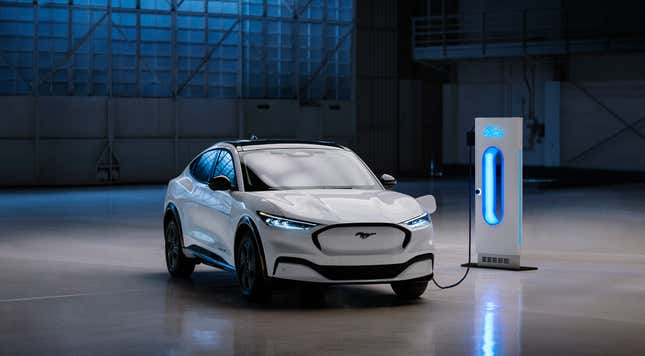 Traveling at a constant, finite speed of 186,000 miles per second, light is faster than a speeding bullet, a fighter jet, or a cheetah on its best day.

Though the laws of physics that govern the universe prevented Ford engineers from making the charging capabilities on the Mustang Mach-E quite that speedy, they were able to make the all-electric SUV's ability to get a fast charge on the quick quite strong.

Via DC fast chargers that are part of the Blue Oval™ Charge Network (19,500 stations and growing), the Mustang Mach-E with extended-range battery and rear-wheel drive can charge an estimated average of 59 miles of range in approximately 10 minutes.* Fast to use and easy to locate via an interactive map online, the in-vehicle navigation on the SYNC® 4A 15.5-inch touchscreen or FordPass App, DC fast chargers can also boost its battery from 10-80% in 45 minutes, making them ideal places to down a quick cup of coffee.
"[The interactive map is] going to tell you how many plugs are at that charging farm," says Ron Heiser, Mustang Mach-E Chief Engineer. "Is it two or is it 10? It's going to tell you there are eight charging stations at a location, the speed of those chargers and how many of them are available. You can get a sense of what's going on as you're approaching a charge station."

Ford engineers also felt it was critical to make it possible for drivers to take the Mustang Mach-E California Route 1 — an EPA-estimated range of 305 miles — for long distances on a single charge, while at the same time maintaining the all-electric SUV's classic Mustang look.
"We could have made a choice to have the car look like a science project, like a UFO, and probably hit 300 miles with a much smaller battery," says Robert Iorio, Vehicle Engineering Manager for the Mustang Mach-E. "We could have made that choice, but the thing would have looked like a missile. It's an SUV, so it's got to have space, it's got to hold all your stuff and it's got to look like a Mustang. And we wanted it to have an EPA-estimate range of 300 miles. That sort of defined the battery."
Heiser, who notes that the efficiency of an electric powertrain is constant whether an all-electric vehicle is traveling one mile an hour or 80 miles an hour, indicated a number of factors all have to work together in order for the Mustang Mach-E to achieve its max range.

"One is the amount of energy that you're carrying, which is the battery size. The other is the overall weight of the entire system. That's the vehicle and the battery together," he says. "Then you have aerodynamics. As Rob said, we could have had something that looked very slippery, but aesthetically didn't look like a Mustang at all and probably wouldn't have looked very pleasing either. Then you get into things like the efficiency of the propulsion system and other things like the rolling resistance of tires. All of that factors into range, along with torque and power as well."

The speed of the charge and the distance capability offered by the extended range battery were both meant to help alleviate a pain point for many drivers going down the electric route: range anxiety.

Often cited as a reason a consumer will ultimately decide to go with a traditionally powered vehicle instead of an all-electric model, range anxiety is the fear of getting stranded after the battery runs low and dies somewhere the typical sources of electricity are unavailable.

In a world that already has plenty to worry about, it's a valid concern and one that Heiser, Iorio and the rest of the Ford team did their best to address while engineering the Mustang Mach-E to ride into the future while at the same time looking in the rearview — and of course, with simple and easy access to North America's largest public charging network.

"Mustang was fast, fun, freedom. Mustang Mach-E is about fast, fun and freedom," Heizer says. "Freedom … with EPA-estimated range of 300 miles.** We are providing you a high-range vehicle where you have the freedom to go without that range anxiety. It's a nod to the legacy of the brand, but it's definitely done in a different way. Freedom is going and doing what you want with who you want to do it with. That, to me, is all an extension of the [original] Mustang brand."

*Range and charge time based on manufacturer computer engineering simulations and EPA-estimated range calculation methodology. The charging rate decreases as battery reaches full capacity. Your results may vary based on peak charging times and battery state of charge. Actual vehicle range varies with conditions such as external environment, vehicle use, driving behaviors, vehicle maintenance, lithium-ion battery age and state of health.

**Based on original equipment manufacturers(OEM)/automotive manufacturers that sell all-electric vehicles and have publicly announced charging networks. Department of Energy data used. FordPass, compatible with select smartphone platforms, is available via a download. Message and data rates may apply.
This post is a sponsored collaboration between Ford and G/O Media Studios