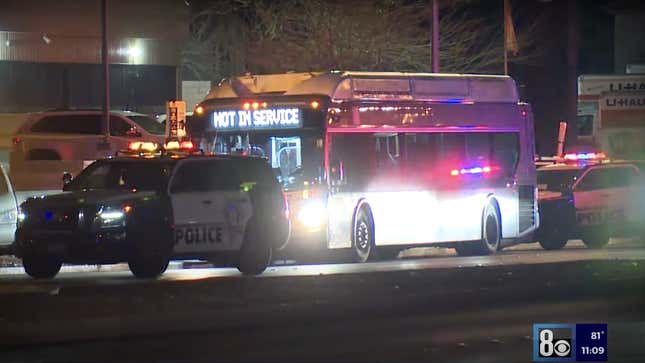 Blowing meth in drivers' faces, stealing buses, and stabbing supervisors—it's all in a day's ride for Las Vegas area bus commuters, but the drivers of those buses are saying they've had enough.
The news outlet 8NewsNow spoke to Sandra Adams, Stephanie Davis, and Tamisha Davis. They drive for the two companies contracted by the Regional Transportation Commission in Clark County. They say the high-profile cases— such as a man being stabbed to death in February or a rider burying a knife into the chest of an RTC supervisor or another biting off part of a police officer's ear—aren't even half of what they face:
"I get cursed at," Adams, who is vice president of Amalgamated Transit Union Local 1637, said. "I get called all kinds of names." The union comprises about 1,000 operators who work at either Keolis Transit or MV Transportation.


"What are some of the things you see on your buses?" 8 News Now Investigator David Charns asked the operators.

"We have people who try to harm other people on the bus," Tamisha Davis said.

[...]

"I come into work and I'm praying, 'Lord, please protect me while I'm out here,'" Stephanie Davis said. "I hope that I make it home back safely."

Local police responded to more than 2,000 incidents – six responses per day – or one every four hours — on RTC buses last year, RTC Deputy CEO Francis Julien said.

"That's a lot: 2,000. We got 12 months," Stephanie Davis said.

To make matters worse, panic buttons on the buses are often not operating and riders see the few security guards on staff as about as powerful as roving mall cops.
RTC Deputy CEO Francis Julien pointed out that the buses provide 41 million rides each year while only 110,000 or so riders were removed from buses, and those were mostly for sleeping or loitering. As of May 2023, the RTC recorded three incidents involving weapons. But violence isn't the only threat RTC drivers face:
The coach operators said not only do they feel like babysitters, but they are also piloting a multi-ton vehicle. An operator will begin at a $17 hourly rate, the union said.

"Not only that but you have to watch the traffic, too," Stephanie Davis said. In 2021, a passenger blew suspected methamphetamine smoke in her face on West Flamingo Road.

"I'm thinking this pipe thing is his bus pass, well no, he pulls it out, under the window they talk about, it still has space. He blows something out of the pipe," she said. Another driver came to her aide as she had difficulty breathing.

"She had to help me get off the bus and help to get some oxygen," she said.

As life has become more unaffordable for Americans, the rate of homelessness, desperation, and mental health issues on public transit rises. Since 2017, the percentage of the population who have experienced homelessness has been on the rise, according to the National Alliance To End Homelessness. The temporarily unhoused and chronically homeless often have nowhere to go, and end up in the only place people can safely spend time without spending money—public transit.
The problem of violence on public transit is a nationwide effect of too few resources for people struggling with mental health and homelessness. Earlier this month, a driver in Charlotte, North Carolina, exchanged gunfire with a rider. On May 5, a distressed mentally ill man was choked to death on the New York Subway.