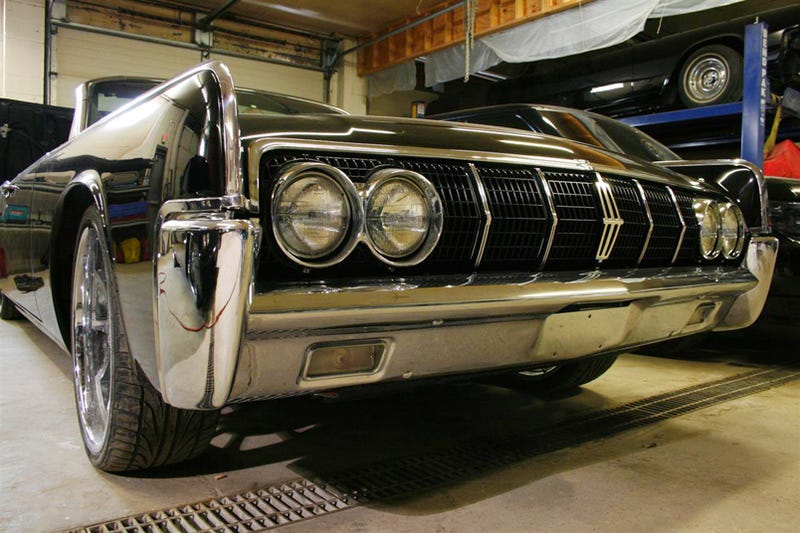 Mobsteel's a Detroit area custom car shop famous for creating some of the most drop-dead cool vintage Lincoln Continentals around. Why else would we head over there for a visit?
A few weeks ago we took a jaunt out to Mobsteel's Brighton, Michigan shop where they do all of their design, fabrication, and paint work. We met with their boss-man, Adam Genei, to shoot the breeze and talk hot-rod-Lincolns. Unfortunately we visited during the week ahead of Autorama, so there weren't many customer cars on the floor and the cars they did have were getting the spit shine in anticipation of the show. Mobsteel specializes in building menacing hot-rodded Lincoln Continentals out of whatever good chassis they can find. The suicide door Continentals are a car with few peers in the badass, vintage luxo-barge category, so it's not much of a stretch to give them some attitude.


The cars are given a complete soda blasting and any rusty cancer is replaced with panels from donor cars or hand fabricated pieces, The engines are completely rebuilt or replaced for reliability and given a significant massage in the horsepower department. Each car is made to order and the customer decides, suspension setups, interior design, audio equipement and exterior design details, everything gets sketched out and mocked up, then tossed into the waiting car. All of the work is strictly kept clean though wtih original equipment quality, and above all made intimidating. You come to Mobsteel to buy their kind of car, not a flamed and tubbed machine built for flash.

Perhaps more fun than the lustworthy Lincolns floating around were the other personal project cars and junk these guys had hanging around. They were in the midst of cleaning up their bagged and suicide-doored, blacked out, customized Ford Flex which we've seen lurking around Ford exhibits at recent auto shows. They've also got some personal projects floating around like an old Chevy Panel van with the original 300 CI straight six which fired up as if new and a mega-cheap flat track Yamaha being pieced back together. The van is due for a full customization and we were discussing paint themes for it, maybe something with clowns and balloons and ice cream. Maybe some ice-cream truck music.
Out back they've got a little Lincoln junkyard which they use when they need replacement parts, that dark blue '63 runs like a champ and will apparently do some pretty impressive burnouts. We're talking about a shop specializing in Lincolns here, but these loons run a dead stock blue and wood-panel Ford Country Squire they bought for $500 as their shop car — the dual-opening rear end still works flawlessly. That alone earns massive Jalopnik points.
Sure, Mobsteel is a business like any other, but talking to the guys working there and seeing the what they do, it's as much about the joy of creating something awesome as it is making money. Let's just say we walked away doing some thinking about our own project cars.