Mitsubishi Motors Corporation (MMC) will unveil three world premiere concept cars at the 43rd Tokyo Motor Show 2013 on November 20. Incorporating a new design that symbolizes the functionality and reassuring safety inherent to SUVs, the three concepts take as their theme MMC's @earth TECHNOLOGY*1 and point to the direction MMC's development and manufacturing will take in the near future.
The MITSUBISHI Concept GC-PHEV is a next-generation full-size SUV with full-time 4WD. It is based on a front engine, rear-wheel drive layout plug-in hybrid EV (PHEV) system comprising a 3.0-liter V6 supercharged MIVEC engine mated to an eight-speed automatic transmission, with a high-output motor and a high-capacity battery to deliver all-terrain performance truly worthy of an all-round SUV.
The MITSUBISHI Concept XR-PHEV is a next-generation compact SUV developed to take driving pleasure to new levels. The MITSUBISHI Concept XR-PHEV uses a front engine, front-wheel drive layout PHEV system that is configured with a downsized 1.1-liter direct-injection turbocharged MIVEC engine and a lightweight, compact and high-efficiency motor with a high-capacity battery.
These two concepts feature PHEV systems optimally tailored to different market and segment requirements.
The MITSUBISHI Concept AR is a next-generation compact MPV which combines SUV maneuverability with MPV roominess. It uses a lightweight mild hybrid system which includes a downsized 1.1-liter direct-injection turbocharged MIVEC engine.
G/O Media may get a commission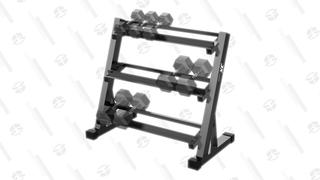 20% Off
JX Fitness Dumbbell Rack
Gains but tidy
Has a three-tier design to help store more weights more conveniently, can safely support up to 1000lbs of weight, which should be enough for most people, has a triangle base for stability, and also features anti-scratch feet which is great if you've built your own studio or workout in your garage.
All three concepts feature MMC's latest "e-Assist"*2 active safety technologies and the advanced "connected car" technology that utilizes next-generation information systems. These functions include a danger detection system which activates the corresponding safety functions and a failure/malfunction early-detection system which urges the driver to seek repairs or other maintenance when necessary.
Including the three concept models, MMC will be displaying a total of 17 models (13 on press days) at its booth at the 43rd Tokyo Motor Show 2013. Joining the concepts will be the new eK Space "super height wagon" minicar due for launch in Japan at the beginning of next year, motorsport vehicles and some current production models.
For more information on the three Mitsubishi Motors concept cars that will premiere at the 2013 Tokyo Motor Show, please log on to Tokyo-motorshow.com/en/.
*1: @earth TECHNOLOGY embraces a collection of advanced next-generation technologies embodying the principles of environmental responsibility, driving pleasure and toughness and safety.
*2: A collection of active safety technologies including ACC (Adaptive Cruise Control), FCM (Forward Collision Management), LDW (Lane Departure Warning). "e-Assist" name used in Japan only.
Source: Mitsubishi Motors