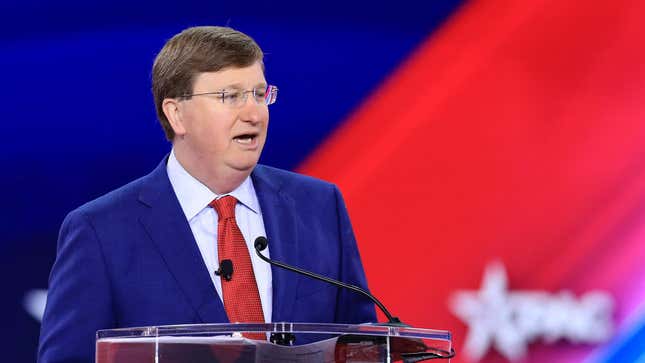 Earlier this month, Mississippi legislators passed a bill banning direct, in-person sales of electric vehicles within the state. It wasn't a close vote — 75 percent of the state's senators wanted the bill passed. But Mississippi residents who live in the 21st century, and who want to see the archaic, scam-laden, needless middlemen that are dealerships dead, still held out hope: Governor Tate Reeves, a small-government conservative, could veto the anti-consumer legislation.
In case you missed it:
Of course, he didn't. Despite calls for a veto coming from within his own Republican house, the governor — who has received over $120,000 in political contributions from dealerships and dealer advocates — signed H.B. 401 into law on Tuesday. Electric vehicle makers will now be held to the same 53-year-old restrictions as traditional auto manufacturers, and be barred from owning their own physical points of sale in the state.
After signing the bill, Reeves tweeted that he "recognize[s] that innovation in this industry is inevitable. And with innovation comes new companies with new business models." Despite the recognition of a changing world, however, Reeves elected to stick with the legislation that's older than he is. In his words, "That's fair!"
Members of Reeves' own party have criticized the bill as protectionism for dealerships. Joey Fillingane, a Republican state senator, put it bluntly to the Associated Press: "Maybe we just like being last all the time. Maybe it's a badge of honor — we're the last ones to change."

The new law does include two caveats, two ways for carmakers to directly sell their vehicles in the state. The first is online sales — H.B. 401 has nothing to say about digital storefronts, where buyers can pick their car from their computer. The second is odder: Companies that directly own one dealership, have owned a dealer license since August of 2021, and only sell electric vehicles, can keep doing their business unimpeded. So far, it appears only one establishment meets these criteria: A Tesla store in Brandon, Mississippi.
By ignoring his own party's calls for a veto, Governor Reeves has condemned his constituents to an archaic, anti-consumer dealership system. With any luck, this one won't also last 53 years.