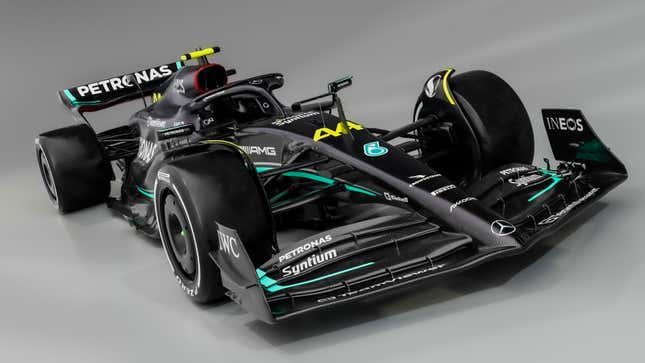 It's no secret that Mercedes had a troublesome year in Formula 1 in 2022. After dominating the sport and winning eight back-to-back constructors' crowns, the side came into the sport's new regulations on the wrong foot and was playing catch up for the whole season. Now, it's hoping its 2023 challenger will be able to change its fortunes, and that all starts with the car's new livery.

For as long as Mercedes has competed in F1, the team has been affectionately referred to as the Silver Arrows. It stems from a tale about its origins in the sport, where apparently engineers stripped the white paint off the cars to show off their aluminum body panels and, importantly, save weight.
It must have worked out for the side back in the day, as Mercedes won nine out of the 12 races it entered in 1954 and 1955. Since then, the team has almost always run with a silver livery to echo this tale, and it was a silver car that won six out of the side's eight consecutive constructors' crowns.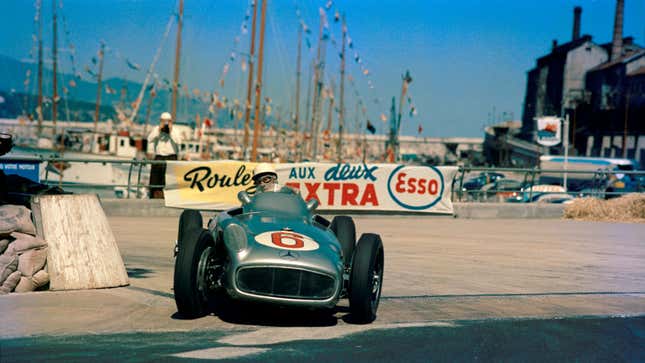 But for 2023, the German squad will stray from its silver styling and run a black car for just the third time in its history. Mercedes first raced in black in 2020, when it was done in an effort to support the diversity and equality causes that were "always close to our heart," team principal Toto Wolff said in a statement.

The dark look was replicated again in 2021 as well. And now, Mercedes is going back to black for its 2023 challenger as it attempts to echo its own Silver Arrows origin story.
"We were overweight last year," Wolff added in a statement from the team. "This year we have tried to figure out where we can squeeze out every single gram. So now, history repeats itself. You will see that the car has some raw carbon bits, along with some that are painted matte black."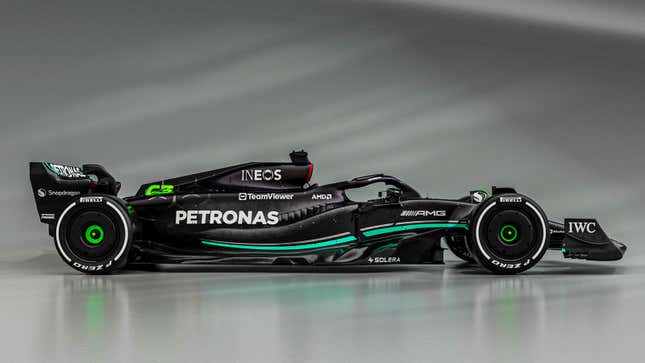 The move is drastic, and definitely creates a striking look for the team. Without the silver of last year's car, the Petronas teal really pops, as do the yellow and blue numbers for Mercedes' drivers George Russell and Lewis Hamilton.
What's more, the team's new look takes a trend that's been popping up with 2023 cars to the extreme. After many squad's struggled to hit the minimum weight limit last year, teams gradually stripped back their liveries over the course of the season, adding more and more black to the cars.
This year, teams have started out the year with even less color. Outfits like Haas have pivoted to a mostly black look while Alfa Romeo and McLaren added extensive patches of black to their cars. While these teams haven't been as blatant in their weight saving efforts as Mercedes, it's surely a factor that influenced the design of many 2023 cars.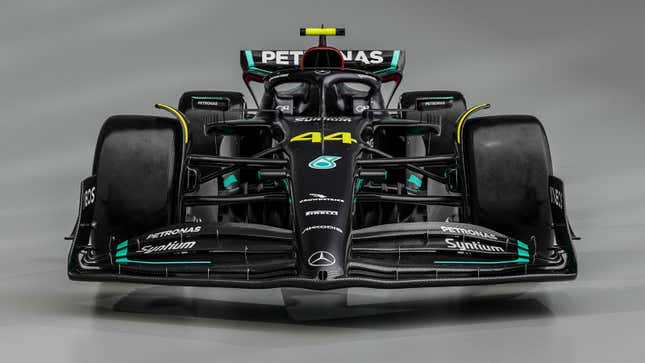 To find out if all these weight saving measures have had much of an impact, we'll have to wait until winter testing begins in Bahrain next week. After that, all eyes will be on the grid at the first race of the season on March 5th.