Mercedes-Benz is hopping on the extended-range EV bandwagon with a compact that combines European styling with a Chevrolet Volt-like drivetrain good for 62 miles of all-electric motoring. Although the car is just a concept, it provides a glimpse of the E-Benz we'll see next year.
The BlueZero E-Cell Concept is one of three eco-friendlier cars that use a modular design that allows Mercedes to offer a gas-electric, battery electric or hydrogen fuel cell drivetrain in a compact five-seater. By using a common architecture based on its A- and B-Class cars, Mercedes says it can diversify its drivetrains without developing a slew of new models.
"Our modular system permits different drive configurations for each customer requirement," Dr. Thomas Weber, director of group research at Daimler, said in a statement. "(It) serves as the perfect basis for a range of vehicles with electric drives. (It) will allow us to expand our product range in an extremely flexible and efficient manner."
We've already seen the hydrogen fuel cell F-Cell that Mercedes plans to offer in limited numbers early next year. The E-Cell Plus is essentially the same car, but with a drivetrain that's viable right now.
The E-Cell Plus is powered by a 136-horsepower electric motor that generates 213 pound-feet of torque. That's enough to propel the car from zero to 62 mpg in "less than 11 seconds," according to Mercedes. Top speed is limited to 93 mph to maximize range.
The motor gets its juice from a 17.5 kilowatt-hour liquid-cooled lithium ion battery with a range of 100 kilometers (62 miles). As you approach the limits of the battery, a 67-horsepower 1.0-liter three-cylinder turbocharged engine kicks in to provide juice to the electric motor. It's essentially the same system you'll find in the Chevrolet Volt and Fisker Karma. Mercedes says the battery recharges in 6 hours when plugged into a standard socket.
G/O Media may get a commission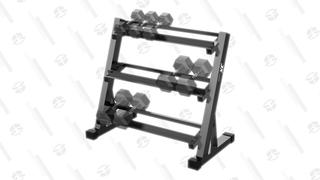 20% Off
JX Fitness Dumbbell Rack
Gains but tidy
Has a three-tier design to help store more weights more conveniently, can safely support up to 1000lbs of weight, which should be enough for most people, has a triangle base for stability, and also features anti-scratch feet which is great if you've built your own studio or workout in your garage.
The drivetrain is sandwiched under the passenger compartment, with the electric motor between the front wheels and the engine between the rear wheels. The small gas tank — Mercedes didn't say how much it holds — sits under the rear seats, while the battery is below the driver. Mercedes says the design keeps the center of gravity low, protects the components and maximizes interior space. Although the E-Cell Plus is just just shy of 14 feet long, Mercedes says it can carry five adults and has 500 liters (about 18 cubic feet) of cargo space.
Mercedes didn't say whether the E-Cell Plus will see production, but it plans to begin producing a small number of F-Cell fuel cell vehicles by the end of the year. Mercedes says a battery-electric vehicle will follow next year, and Smart plans to begin producing the electric fortwo later this year.
Photos: Mercedes-Benz
See Also:
The E-Cell Plus has room for five people and has 500 liters of cargo space.
The tiny 1.00-liter turbocharged engine in the E-Cell Plus sits under the floor between the rear wheels. The entire drivetrain is under the floor, a move Mercedes says lowers the car's center of gravity, protects the components and maximizes interior room.