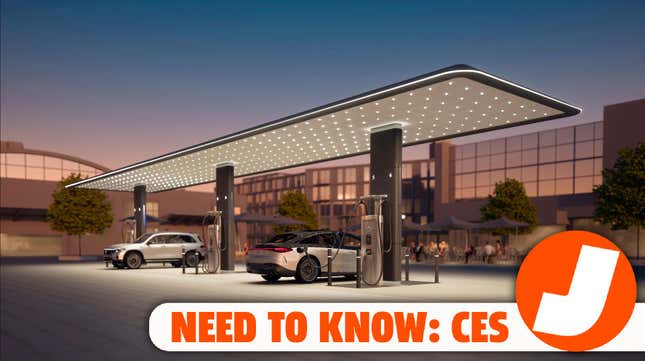 It's no secret that charging infrastructure is holding back electric vehicle adoption in the U.S. In addition to needing more reliable chargers, we also need more chargers in general. Today, Mercedes-Benz announced that it plans to build a global network of 10,000 chargers in North America, Europe, China, and other important markets.
Beginning this year, Mercedes says it will build its first chargers in the U.S. and Canada before expanding to other regions with the goal of finishing all 10,000 by 2030. In addition to adding chargers to dealerships, Mercedes plans to focus on certain cities and high-density areas, as well as retail locations and arterial roads. So if you were hoping this new network would make it easier to road trip your EQB, you're probably out of luck. But if you live in an apartment or condo and can't charge at home, the new chargers may make buying an EV more reasonable.
Although the chargers will be open to other EVs, making life easier for Mercedes customers is definitely the main goal here, as the automaker says owners will be able to reserve chargers and will also receive "other benefits." One of those benefits is a plug-and-charge function that allows the charging station to access your car's stored payment information via the charging cable, eliminating the need to pay with a credit card or app on your phone.
The release also claims, "After a smooth, fast and relaxing charging experience, users will be able to continue effortlessly on their way." Having dealt with some rough charging situations in the past, that would be a welcomed change to the charging experience. Especially if all the chargers actually work when you get there.
Based on what Mercedes says are its priorities for charger locations, it may actually pull off that claimed relaxing charging experience. The release promises plenty of room for vehicles and will allow you to charge from either side. Where possible, charging stations will be covered to protect you from the weather, and ideally, they'll be near food, outlets, and bathrooms. There will also be security cameras in place for safer charging.
And they plan to move quickly, promising 2,500 chargers in North America by 2027. Mercedes says building out the North American portion of its charging network will cost about $1 billion. It will split that cost with MN8 Energy, its partner in the project alongside ChargePoint.