For all the crap we give Tesla, they rightfully deserve to be lauded for the Supercharger network of fast-charging stations. You want to drive across the country in your electric car? Easy peasy, thanks to the ability to quick charge up to about an 80% tank of electron juice in about 20 minutes. Unless you and some of the hundreds of thousands of other Tesla owners want to use the exact same Supercharger station at the exact same time.

I've written whole rants on the topic, but I really do love the Supercharger system. While companies like GM twiddle their thumbs and pen useless op-eds for CNN wondering who, WHO, could possibly build the infrastructure their cars require for them, Tesla just went out and did it. The freedom the literally thousands of Superchargers enables is why, for all of Elon's inanity, if I was in the market for an expensive electric car at the moment, I'd probably get a Tesla over anything else.
But "literally thousands" of Superchargers isn't enough. It's not enough for the millions of cars Tesla itself wants to build, and other automakers are still playing catchup, let alone coming close to the number of Superchargers that exist.
Basically, it's going to take some brave corporations millions, if not billions, of dollars, to go ahead and start building quick-charging stations on the scale that we have gas stations now.
Until then, we'll get scenes like this in high-Tesla-ownership areas, shot by a reader named Steve at the San Luis Obispo, California, Supercharger station on Thanksgiving Day:
Build a big restaurant and a Quick-E Mart and an arcade and whatever the hell it is people use to kill 20 minutes, and you'll make a killing yourself.
Oh hell, I'll do it. Anyone got a couple billion?
UPDATE 12/2/2019 3:35 PM EST: We spoke over email to Nika, a Tesla Model 3 owner who stopped by the same San Luis Obispo Supercharger station on Saturday night. At approximately 6:30 local time that evening, she said that she had been waiting for "well over an hour," with "dozens of cars" still waiting ahead of her in line.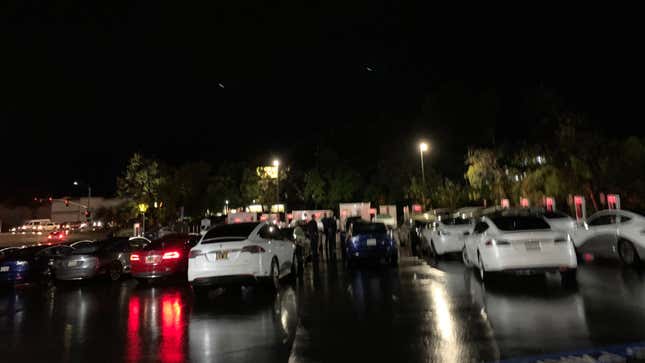 When she was finally able to plug in, the Supercharger itself was charging at some un-super speeds, with a photo she provided showing a recharge rate of 56 miles of range per hour of charging (more typical Supercharger speeds, in my own personal experience, run into the 300 mi/hour range).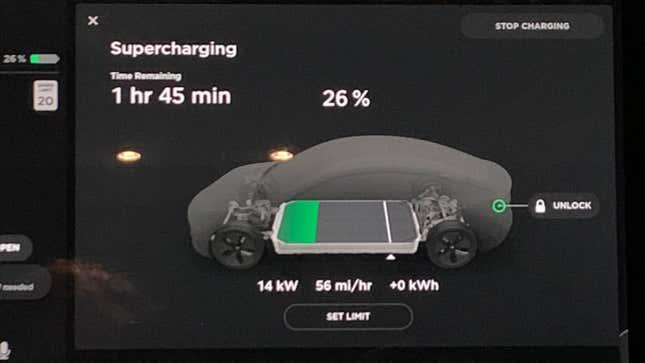 Nearly 20 minutes after she began charging at the Supercharger, Nika said that one of Tesla's mobile Supercharging units arrived to help alleviate the line.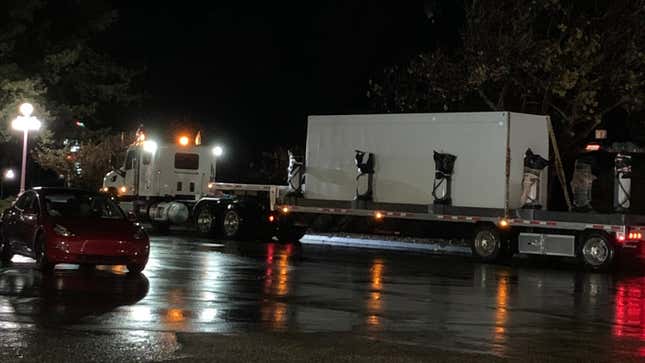 But 40 minutes after that update, Nika said that the Supercharger she was charging at "died," leaving her Model 3 with a 43 percent charge."Someone is trying to fix it, but damn, this is the worst travel experience so far," Nika wrote. "At least my car and the car next to me got the same error message," explaining what a Supercharger failure looks like. A Tesla staffer managed to get the Supercharger back up and running, but Nika showed us a photo of her car reporting an additional two hours to charge: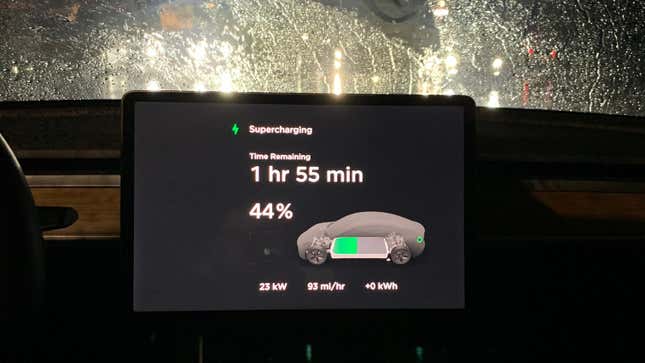 Even still, Nika said that her Model 3 is "a great car, but we should have driven our Mazda for this weekend."

We've reached out to Tesla for comment, and will update when we hear back.
H/t to Steve!