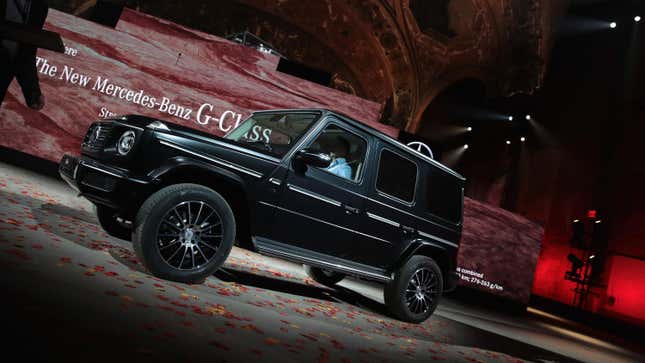 Mercedes-Benz is reportedly planning a new compact version of its ever popular G-Class off-roader (and Beverly Hills mainstay) to hit the market sometime around 2026. This is according to an article from German business newspaper Handelsblatt.
Right now, details are scarce on exactly what sort of size the SUV will be, what platform it will run on, and if it's going to be an electric vehicle or have a more conventional ICE power plant. That being said, an electric G-Class is slated to show up sometime next year.
We also don't know if the "compact car that is said to have strong visual similarities to the G-Class" will only match it on the surface or if it will have the off-road prowess to match its bigger sibling. Based on the translated article, the mini-G may be a Chinese market exclusive. We will have to wait and see.
While we don't know exact measurements, the outlet reports that the li'l G will only be a tiny bit shorter than the regular G-Class, but it will most likely be significantly lower. How Mercedes-Benz plans to do this while maintaining the G-Class's signature stature is anyone's guess.
The reported move comes at a time when Merc is pairing down its model portfolio. The A- and B-Classes, CLS, and a number of convertibles are getting the axe soon, but it seems that the German coming is still very much about making SUVs and crossovers. Who can really blame them?
Maybe Mercedes is going to have their very own Jimny competitor, though that seems pretty unlikely.