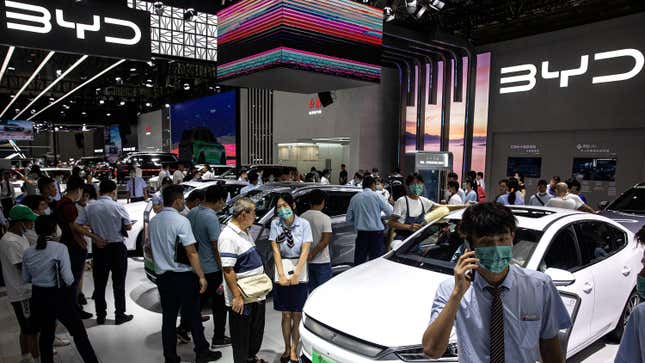 Passenger car sales in China took a bit of a nosedive in January. Reuters reports sales were down 38 percent last month. That change wipes out a 2.4 percent sales gain the market saw in December of 2022. It all comes down to weakening demand due to expiring tax credits for vehicles with combustion engines and subsidies on electric vehicles.
The outlet reports sales of plug-in hybrids and battery electric vehicles also fell 6.3 percent last month. That unfortunate news comes after 90 percent growth in that segment during 2022, according to the China Passenger Car Association.
"New energy car sales in January didn't meet our expectations, with a rare year-on-year decline in a single month of sales," Cui Dongshu, CPAC secretary general, told Reuters.
Lunar New Year and the end of EV subsidies in the country are being pegged as some of the reasons for the downturn. China's central government also decided not to extend its 50 percent purchase tax cut on combustion engine vehicles that expired at the end of 2022. On top of that, the government decided to end its over-a-decade-long national subsidy program for EV purchases.
According to the outlet, the Chinese automotive market is pretty heavily reliant on local government incentives to get folks to actually buy vehicles, and because incentives have pretty much gone away, automakers like Tesla had to make deep price cuts to keep its market share. It seems to have worked.
Reuters says that the Texas-based automaker sold 66,951 Chinese-made vehicle in January. That's an 18 percent increase from January, and it's nine percent higher than the same time a year earlier. During January 2023, its market share rose to 12.5 percent from nine percent the month earlier.