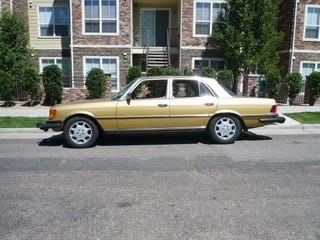 Welcome to Down On The Street, where we admire old vehicles found parked on the streets of the City That Rust Sorta Ignored: Denver, Colorado. Here's a W116 Benz in near-showroom condition.
The 450SE was built from 1973 through 1980, and not much about the exterior appearance changed during that time. I'm guessing that this example is a '74 or '75, due to the monstrous 5 MPH crash bumpers.


A great big V8-powered German sedan like this makes you forget the Malaise Era ever happened!