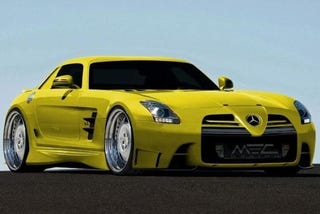 Tuning shops will sometimes digitally render cars they don't have access to in order to drum up interest. Exhibit A: MEC developed these Mercedes SLS AMG renders beaten with every ugly stick in the book. Do not want.
Initially, MEC released a horror show of revisions on the SLS a while back — those would be the red, yellow and silver versions in the gallery. They didn't go over so well. So, after a universal response of "that's fugly" from the internet and potential buyers they returned to their rendering software and stylus pads to come up with something a little less vomitous.

The result? The white version above that's essentially a kitted-up version of the SLS with traditional tuner bits like a front fascia change, side skirts, and giant wheels.
We're thinking maybe tuners should just leave this car alone. [Cardisiac translated]