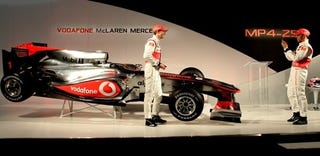 The MP4-25 is McLaren's new car for Lewis Hamilton and Jenson Button. With the help of our advanced spy microphone, we present some on-stage chitchat between the drivers as they discuss their new ride.
Hot on the heels of Ferrari's online launch of the F10 comes the new silver and red McLaren, quite dramatic in shape. It's got a lot to prove: McLaren suffered a horrible start to last year's season and it took them until the Hungarian Grand Prix in July to produce a winner.
After the season was over, they picked up new world champion Jenson Button from Brawn GP—now Mercedes Grand Prix—to form a new lineup consisting solely of world champions, firing Heikki Kovalainen in the process.
Will Hamilton and Button immediately be at each other's throat, like Hamilton and Fernando Alonso in 2007—or like former McLaren drivers Alain Prost and Ayrton Senna in the late 80s? Perhaps Jalopnik's ultra-advanced spy microphone, smuggled on stage, has recorded the answer.
Photo Credit: Mark Thompson/Getty Images
"Mate, help me unpack this thing and save the camera grins for later. Do you have any idea how heavy an F1 car cover is? Of course you don't! Daddy has always carried it for you, hasn't he? Or was it Nicole?"
"Will you shut up, Jenson?"
Photo Credit: ADRIAN DENNIS/AFP/Getty Images
"Help me, lady! Lewis is off smiling into cameras, I can't lift it all by myself. In fact, I am choking to death beneath this cover. I think it's got Ron Dennis's discarded amalgam fillings inside to weigh it down."
Photo Credit: ADRIAN DENNIS/AFP/Getty Images
"The name Fernando ring a bell, mate? He was out of this seat so fast, he could almost have outqualified me had he done it on track. Almost."
"Tell me, Lewis, how exactly did you lose the 2007 title at Interlagos after leading the points table all season? Were you hoping for a Timo Glock moment there too?"
Photo Credit: ADRIAN DENNIS/AFP/Getty Images
"Mate, that Scherzinger chick sure was hot. Why did you split up?"
"You don't want to know, mate."
Photo Credit: ADRIAN DENNIS/AFP/Getty Images
"You turn, I make silly face. Deal?"
"Deal."
Photo Credit: Mark Thompson/Getty Images
"Wanna bet we're better photographers than those chaps are racing drivers?"
"The fat man with the big zoom?"
"What about him?"
"He beat you on the way here in his rented Vauxhall."
"No he didn't."
Photo Credit: ADRIAN DENNIS/AFP/Getty Images
"Lewis, you're short."
"Jenson, you're named after an old British car."
Photo Credit: Mark Thompson/Getty Images
"Mate, that curry we had for dinner last night, it's killing me. The cramps! The pain!"
"Keep it together, Lewis. This year's racing suits are equipped with a flatulence detector which has its own account on Twitter. NICOLE IS FOLLOWING YOUR FARTS!"
Photo Credit: Mark Thompson/Getty Images
"My even more advanced suit is also equipped with the all-new Automatic Flatulence Disposal Subsystem, which turns hydrogen sulfide and methane into EXTRA POWER."
"It's still on Twitter. Let me pull up my iPhone and show you."
Photo Credit: Mark Thompson/Getty Images
"Ok, so let's see, @N_Scherzinger is saying 'OMG LOL I can't believe Lewis let rip during a press conference :-DDDDDD. What a wanker!'"
"Watch my index finger, Jenson. I'm going to fold it into my fist real slow, just for you."
Photo Credit: ADRIAN DENNIS/AFP/Getty Images
"See Jenson, I have people here who will position you further back so the difference in our heights will be cancelled out on camera."
"Did Nicole teach them how to do their job?"
Photo Credit: Mark Thompson/Getty Images