McLaren is prepared to pay $99.3 million in order to rid themselves of Honda's unreliable Formula One engines once and for all, reports The Daily Mail. McLaren hopes to reconnect with Mercedes for an engine supply because Mercedes' engines actually work on a regular basis.

Fernando Alonso's gutting loss in Canada, where the Honda engine failed with two laps to go as Alonso was in tenth place—in contention to score McLaren's first points of the year—was the last straw, per The Daily Mail. McLaren Racing CEO Zak Brown said of the failure to Motorsport.com:

Fernando did a world champion job again, and the engine let him down again.

It's a bit of the same old story, which is something that needs to get fixed one way or another. Because we can't keep doing this.

I think he was clearly going to get our first – not even points – but point. It was good to see Stoffel make it to the finish. But I'm just speechless.
You feel like you're finally going to get your first point of the year, and a couple of laps from the end, it goes. Just really poor power, and really poor reliability.
Alonso's not-so-idle threat to leave at the end of this year if McLaren doesn't win has also exacerbated McLaren's need to find a working power unit ASAP.

Mercedes as a new power unit supplier makes some degree of sense, as Merc supplied McLaren's power units before Honda reentered F1 as an engine supplier and partnered with McLaren.

G/O Media may get a commission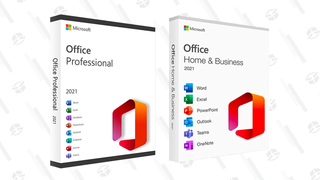 89% off
Microsoft Office Professional 2021 Lifetime License
McLaren shareholder Mansour Ojjeh was overheard speaking to Mercedes team chairman Niki Lauda and Mercedes team principal Toto Wolff at last weekend's Canadian Grand Prix about a possible partnership, reports The Daily Mail. His former partner Ron Dennis scored the Honda deal under the idea that McLaren would be more competitive as the primary partner for an engine manufacturer. However, Ojjeh does not share this belief that you need to be a works team to be competitive, despite the fact that non-works teams often get upgrades after the main works team in practice.

McLaren racing director Eric Boullier told the Mail not to expect any deal to be made before the next grand prix later this month in Azerbaijan. However, a decision on next year's engine supplier is expected to drop before F1 takes its summer break in August.

Despite the idea that Mercedes might not want to provide a potential rival with one of their competitive engines—as Red Bull found out when they shopped around for anyone but Renault to supply their F1 engines—McLaren is confident that something will work out, reports the Mail.
McLaren will lose the $100 million a year Honda contributes to the team as their engine partner, however, McLaren Racing CEO Zak Brown admitted that the Honda partnership is now losing them money in lost prize winnings and sponsorships, telling Crash.net:

I think it just becomes a business decision. As nice as the Honda contract is and I'm sure there's lots of teams here that would love to have the contractual relationship, at the end of the day you start losing a lot of money in prize money which is all easily documented. We lost sponsor partners to other teams.

Meanwhile, the cost of leasing engines from Mercedes would be around $13.5 million, per the Mail, although McLaren may be able to negotiate that price down. Mercedes declined to comment on the rumors to the Mail, because of course they did.

Honestly, $13.5 million sounds like an incredibly good deal compared to the price they're paying in sheer, horrifying pain to use Honda's engines. It's a worthy trade-off. Do it, Mercedes—and revive the cool McLaren-Mercedes road car collaborations while you're at it, too, please.