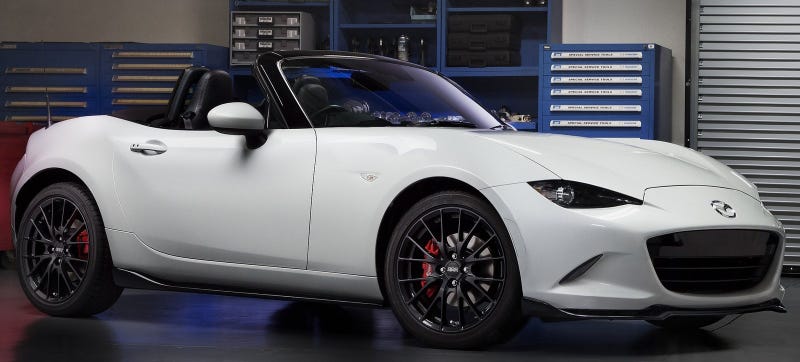 The 2016 Mazda Miata! It's cute! It's fun! It's got a big smiley face! No you're wrong it's here to KICK YOUR ASS. At least, that's what I gather from Mazda's news about an "aggressive" Club Edition Miata coming to the New York Auto Show.
Mazda doesn't say anything about this Club Edition car, nor did they release a photo. I'm kind of hoping it will look like the Accessories Design Concept, pictured above. All we know is it's going to be "the most aggressive road-going iteration of Mazda's fourth-generation flagship roadster."
The Club Edition was a trim on the outgoing third-generation Miata, one we tested back in 2013. It was the middle model in the Miata range, one that sported upgraded Bilstein shocks, a limited slip differential and some cool graphics and badges.
One thing we shouldn't expect from the 2016 Club Edition is more power. Mazda is adamant that the U.S. car will have a 2.0-liter naturally aspirated four with 155 horsepower and 148 pound-feet of torque. At the very least, it should get some handling and aero goodies.
All the better to kick your ass with.
---
Contact the author at patrick@jalopnik.com.