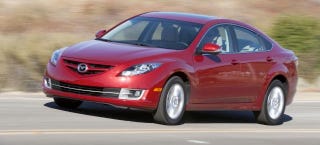 Mazda has a spider problem and it has nothing to do with which Fiat brand will get a version of the new Miata. This concerns the previous generation Mazda 6 and the spiders that may still be living in its fuel tank, in a repeat of one of the rare humorous recalls.
This is the second time Mazda has recalled 6 sedans over concerns spiders "may weave a web in the evaporative canister vent line," according to the NHTSA. A web could create excessive pressure in the fuel tank and cause the tank to crack.
This round is for 42,000 2010-2012 Mazda 6 four-cylinders. Last time, it was for 2009-2010 models.
As before, Mazda will install a "spring to prohibit spider intrusion" and reprogram the emissions system to prevent pressure building up.
Photo: Mazda