Mazda Dressed Up These CX-5s For SEMA, Including A 2.2-liter Diesel Dempsey-Mobile
Mant of the cars appearing at SEMA are flashy representations of pretty normal cars. Such is the case with the Mazda CX-5, but one of their gussied up offerings has something interesting going on beneath all of that flash.
As we've mentioned before, the despite the fact that it's a crossover, the CX-5 is a car we can actually live with. Mazda's Kodo design language is easy on the eyes and their SKYACTIV engines are pretty decent in the power and efficiency departments.
Here's the breakdown of Mazda's SEMA concept models - all essentially normal CX-5s with fancy paint on them with one big exception.
The CX-5 180 is a modern day, corporate version of one of those 1960s SoCal hippie art cars. It has abstract pictures of Big Bear and Point Dume on it, and a snowboard and surfboard strapped to the roof to remind you that the California biathlon is a real thing (if you're not familiar with that, it's a day with skiing and surfing). We get it, but it's cheesy.
Not much different in the sappy show department, the Urban is a blacked out CX-5 with big wheels and a dual exhaust. There's really not much else to say about it. Yet another matte black car at an event that's matte black car-happy.
G/O Media may get a commission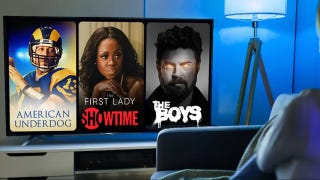 UNDER $1
99¢ Prime Video Channels
But the CX-5 Dempsey stands out a bit. Named after Patrick Dempsey - a.k.a. McDreamy, the actor who races RX-8s, which are nothing like CX-5s - they sport the SKYACTIV 2.2-liter diesel engine and a six-speed manual transmission. Now I realize that there has been some internal division at Jalopnik recently over the merits of manual vs. automatic and, probably, diesel versus gasoline. But let me be clear about my position on these issues. Diesel + manual = good. Sounds like a rad car, and it's custom paint scheme makes it look like a rad car.
As much as I talk trash about cheesy paint schemes and useless exhaust system add ons, it really is a delight to see manufacturers having fun with livery and noise. After all, presentation is everything.
Photo credit: Mazda USA