Good Morning! Welcome to The Morning Shift, your roundup of the auto news you crave, all in one place every weekday morning. Here are the important stories you need to know.
1st Gear: UGH
Oh, here we go. As automakers and tech companies seem determined to make your dashboard into a shitty smartphone that doesn't work as well as your actual smartphone, that means the #brands are coming, the #brands are coming! From Bloomberg:
Eager for a cut of drivers' purchases of fast food, gas and more, automakers have big plans to bring e-commerce to the dashboard. Examples:

• Ford Motor Co. already has an app that lets drivers dictate an order to Domino's Pizza using voice controls and a smartphone.

• General Motors Co. this year began offering AtYourService, which alerts drivers to deals at Dunkin' Donuts or lets them book a hotel room on Priceline.com using voice commands.

• By 2020, as many as 40 percent of new vehicles sold worldwide will let drivers shop from behind the wheel, predicts Thilo Koslowski, vice president of the auto practice at Gartner.
Besides that, some worry that if e-commerce in your car becomes a thing, cars themselves could become a target for identity theft.
Connected cars present a rich target, akin to retailers or banks, where hackers can troll for credit card numbers, home addresses, e-mail information and all the other personal details required for identity theft.

"Today the motivation for hacking a car is mischief, with an objective of hurting people or car companies," Koslowski said. Once drivers can shop with impunity as they roll down the highway, "the car will definitely be viewed as a vulnerable device."
G/O Media may get a commission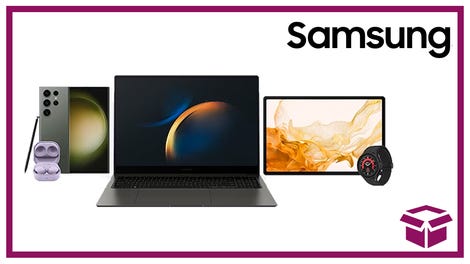 24 hour deals
Discover Samsung - Daily Deal
I'm more annoyed by the former than truly concerned by the latter, but I gotta tell you: that well-maintained, late '80s Mercedes I keep eyeing on Craigslist looks more appealing every day.
2nd Gear: The Norms Mean Nothing To Sergio Marchionne

As Fiat Chrysler prepares to spin Ferrari off into an independent entity later this year, the Italian exotic manufacturer is in need of a CEO after Amedeo Felisa retires from the post. So who could it be?
How about Sergio Marchionne, who's also Fiat Chrysler's CEO? Why not? One more from Bloomberg:
Marchionne, who is also CEO of Ferrari owner Fiat Chrysler Automobiles NV, may take full responsibility at the division before it's spun off in early 2016, adding to his list of positions, said the people, who asked not to be identified discussing private talks before an official announcement. Felisa, 68, may keep an advisory role, said the people. Discussions about Felisa's replacement are under way, and no final decision has been made, the people said. Ferrari declined to comment.

The Fiat Chrysler chief "has the ego, the confidence and possibly even the ability to add the Ferrari CEO position," Erik Gordon, a professor at the University of Michigan's Ross School of Business, said in an e-mail. "The norms mean nothing to him."
He's a busy guy:
Still, the number of executive or board positions Marchionne holds is unusual. He's also chairman of CNH Industrial NV, the truck and tractor maker spun off from Fiat in 2011; vice chairman of Exor SpA, the holding company of the Agnelli family that controls Fiat Chrysler; chairman of SGS SA, the Swiss product-testing company that he led before the Agnellis picked him to run Fiat; and an independent director at cigarette maker Philip Morris International Inc.
3rd Gear: VW Gets A Boost From China
As China's central bank cuts lending rates for auto companies to help boost car sales, Volkswagen — one of the automakers hit hardest by the recent crisis — is one of the biggest beneficiaries. Via Reuters:
When China's central bank singled out auto financing companies for extra help on Tuesday, it effectively freed up more than 200 million yuan ($30 million) for Volkswagen AG's (VOWG_p.DE) China finance unit, which it can use to boost falling car sales, a top official said on Friday.

Along with a cut in benchmark lending rates, the People's Bank of China cut the amount of reserves financial institutions need to hold by half a percentage point, but topped that up to 3.5 percentage points for auto financing.

"It can be used to reduce our cost of funds, and we can pass that on to the customers," General Manager Harald Mueller told Reuters.
4th Gear: U.S. Sales May Dip For First Time In 19 Months DON'T PANIC
Oh dear god, a possible drop in record monthly car sales might be coming! Retreat to the bunkers and get ready to eat your own children to save yourselves, the world is ending!
Not really, it's just Labor Day, reports Automotive News:
Monthly U.S. auto sales are expected to fall for the first time in 19 months in August, but analysts say it's a blip caused by a later-than-usual Labor Day rather than a softening of consumer demand.

Still, that could be enough to halt Fiat Chrysler Automobiles' streak of consecutive year-over-year gains after 64 months. Kelley Blue Book projects that FCA's sales will decline 3.2 percent, while TrueCar, Edmunds.com and Barclays Capital think the streak will continue — barely.
5th Gear: The New Smart Is More America-Friendly
We just sent Jason Torchinsky to drive the all-new 2016 Smart ForTwo (really, who the hell else would we send to test that car?) and you'll be reading his take later today. But here's an interesting tidbit about the car: much of it's redesign was to make it more palatable for Americans. One more from Automotive News:
All of the key changes to the 2016 model — the increased width, new transmission choices, and more substantial styling — were made primarily with the U.S. market in mind, Heiko Schmidt, lead product planner for Daimler's Smart unit, told Automotive News at the U.S. press launch for the ForTwo.

"The U.S. has always been in the top five markets for Smart," Schmidt said. "It's contributing massively to the overall sales goal that Smart has."
It also has a manual option for the first time ever instead of the old garbage automated transmission, which U.S. dealers didn't even want!
Dealers also resisted a manual. "They never want to see a manual on the lot on the Mercedes side," said Schmidt, who also oversees planning for Mercedes' C, CLA, GLA, SLK, S, and SL models. Yet Smart encouraged its 89 U.S. dealers — all of whom are tied in to a Mercedes store — to offer the choice. So far, Schmidt said, about 80 percent of orders have been for the optional DCT.
Haters.
Reverse: Upscale From Day One
Charles Stewart Rolls, the pioneering British motorist, aviator and co-founder (with Henry Royce) of the Rolls-Royce Ltd. luxury automobile company, is born on August 28, 1877, in London's upscale Mayfair district.
Neutral: I Mean, Come On
E-commerce in your car? Is anyone else as apoplectic over this as I am? Or am I crazy, and it's actually a great idea?
Won't somebody please think of the #brands!?
---
Contact the author at patrick@jalopnik.com.