It may not get as much attention as Tesla or Google, but defense giant Lockheed Martin is diligently working on autonomous vehicle technology. And while the vehicles can't yet function entirely on their own, the company says it has developed new capabilities that can ultimately achieve one of the chief goals of AV tech: saving lives. In this case, it's saving human troops from doing potentially dangerous jobs.
"Ultimately the goal of that activity is to improve the safety for the soldiers," said Myron Mills, Lockheed's program manager for autonomous systems, told Foxtrot Alpha in an interview. "You can take more soldiers out of harm's way if you're in environments that are not secured, and even in environments that are secured. You can start out by reducing the number of drivers."

One way, Lockheed says, is through what it calls the Autonomous Mobility Applique System, or AMAS. The company says it's a multi-platform kit that utilizes sensors and control systems that can enable autonomous functions on military tactical vehicles. Similar to what you might see nowadays on tech-heavy cars, the functions can provide driver warning and driver-assist functions.

But also not unlike the current self-driving robot cars we see on the road, full autonomy isn't a reality.
G/O Media may get a commission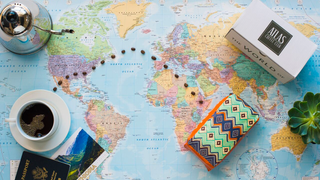 First Bag Free
Atlas Coffee Club - Free Coffee
Explore global coffee
With each bag, Atlas includes details on the coffee's tasting notes and a postcard about the region and its coffee history. And when you subscribe, you have options to tailor frequency, grind size, and roast preference of your beans, so you'll always be brewing the perfect cup.
So the military is working on a solution: a leader-follower-type system. As Popular Science described it, the leader-follower system involves two humans manning a lead vehicle, and then "up to seven other following vehicles are driverless, with autonomous systems guiding them to follow their humans in the lead."
That means up to 14 fewer soldiers driving, freeing up their attention for security details instead of navigating the road.
Last August, Lockheed says it completed development of such capabilities in several vehicles. A couple months later, tests were completed with five vehicles in Texas.
Mills said the U.S. Army is working on a program to have leader-follower capabilities rolled out within the coming years, and he expects a significant uptick in autonomous vehicles being rolled into the military by mid-next decade.
"The leader-follower big truck programs is about five, certainly no farther than, 10 years away," Mills told Foxtrot Alpha. "In that five-to-10 year window, I think you're going to see a lot of autonomous vehicle rolled into the military."
Another method is the SMSS—Squad Missions Support System—vehicle, which is about the size of a sub-contact car. Mills said it's intended to "go with soldiers who are on foot."
"It's intended to carry gear for them," he said, anything from food or water, to ammunitions of field fortifications. "Whatever they need to offload, when they're in remote or austere environments."
Long in autonomous tech game, Lockheed's not developing a commercial vehicle akin to traditional automakers. But the company says it's expected to roll out some SMSS technology to the commercial market within the next few years, and could include anything from site shuttle (simply using robot vehicles to transport personnel or material around) to site security (autonomous patrols, using radio frequency tags, for instance).
Mills is obviously bullish about AV technology, but he genuinely believes current literature about it has "understated" how far advanced it has become.
"I think we're—overall not just military but looking at the whole consumer and industrial market, as well as military—we're standing on the threshold of the next industrial revolution," he said. "I think five to 10 years from now, you're not going to believe what you can see."