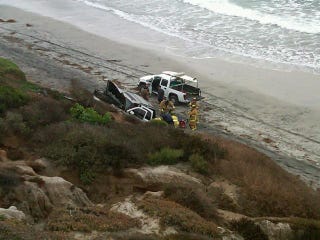 Retired linebacker Junior Seau drove his Cadillac Escalade off a cliff near Oceanside, California after being arrested for domestic assault. Seau survived, but photos show the car was crushed.
According to 10News, former San Diego Chargers and New England Patriots linebacker Seau was arrested on a felony charge of spousal assault for allegedly attacking his live-in girlfriend early in the morning. He was released and then, around 9:00 am, witnesses describe seeing Seau's SUV drive off the cliff.
Seau survived with only minor injuries was but was taken to a local hospital.
[10News]