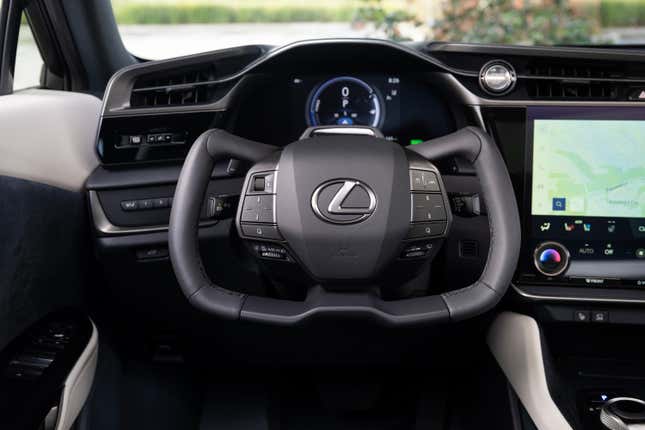 If the idea of driving a car that has no physical connection between the steering wheel and the car's front wheels makes you nervous, then you're probably not alone. It's a weird idea, and while companies have dabbled with it in the past (Canoo, for example, has a design that earned regulatory approval, and Infiniti had a not-so-great system in the Q50 back in like 2013), it's never been something that customers embraced. Now, Lexus is looking to bring steer-by-wire to market in the forthcoming RZ 450e electric crossover. I drove a preproduction vehicle equipped with steer-by-wire, and I can't see a reason why you'd choose this over conventional steering.
This NYC Garage Takes Vanlife To The Next Level | Jalopnik Visits
In case you missed it:
In an RZ with drive-by-wire, the conventional steering wheel is replaced with a yoke. Lexus claims that the yoke design makes it easier to see the instrument screen, but I didn't find the display in the conventional RZ difficult to see at all – and at 6 feet, 4 inches tall, I often have issues with steering wheels blocking gauges. This would be easier to understand in something like the Toyota BZ4X, which has a far less conventional dash layout.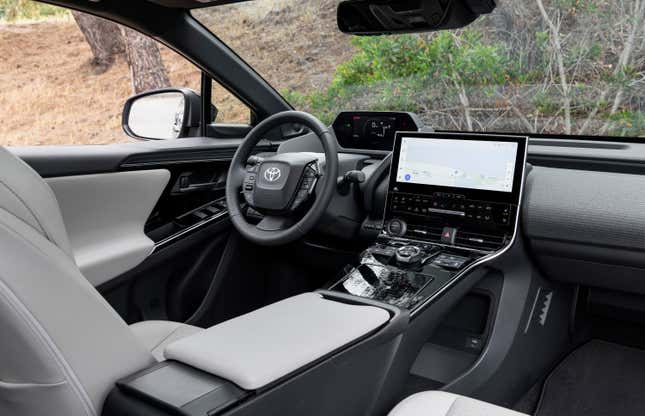 In fairness to Lexus, pairing the yoke with this steer-by-wire system makes much more sense than Tesla's yoke implementation in the Model S and Model X Plaid. That's because, in the Lexus, you never need to steer the yoke through a full 360-degree rotation. The Lexus has a highly variable steering ratio, ensuring that you never have to cross your hands over each other, even in parking lots where a bunch of steering input is required to make tight maneuvers.
But the way the steering ratio constantly and dramatically changes makes it very hard to get used to Lexus' steer-by-wire. It's likely that you'd develop muscle memory eventually, but I suspect the learning curve will be steep. For example, the steering yoke is very heavy to turn at low speed and when initiating a turn. As you turn further, it gets lighter, and the ratio gets quicker, meaning smaller inputs generate a bigger change in the vehicle's direction.
On the road, this feels mostly fine — it's rare that you'll be adding a ton of steering input during normal driving. However, at low speeds, it's extremely confusing and difficult to drive smoothly. While testing the RZ 450e at a media event, Lexus had me negotiate a small cone course in a parking lot before letting me set off on the road in a steer-by-wire RZ. When company representatives initially asked me to keep my speed under 20 mph, I laughed. But when I got behind the wheel (sorry, the yoke), suddenly, 20 mph felt like too much speed. The unpredictability of the variable steering made it a handful, and the yoke itself makes the RZ really hard to handle.
Weirdly, when I asked Lexus' engineers what benefits this system offers compared to a conventional steering setup, they couldn't offer a compelling answer. Lexus claims that steer-by-wire is a mobility solution, but it's hard to see who that solution is for, at least in its current state. It makes a lot of sense for an autonomous vehicle to steer itself this way, but the benefits are less clear for a human-driven vehicle.
Lexus wants to sell 5,000 RZ 450e crossovers in 2023. The steer-by-wire system won't be available at launch, and I suspect it won't be available until at least 2024. It will be very interesting to see what the take-rate is for this system when it does go on sale. I'm betting it will be low, particularly if people have the chance to sample it before buying.