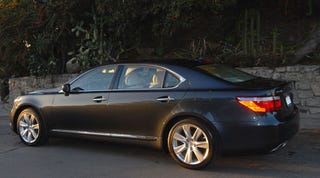 Jalopnik Reviews
All of our test drives in one convenient place.
Why You Should Buy This Car:
Even though you're rich, stealth-wealth is your thing: you're not just another schmuck in an S-class. Mercilessly powerful, unbelievable technology, cruise ship smooth ride, sublime comfort and modern good looks. The back seat is one of the best in the world. Five powered sunshades. The perverse pleasure you get from knowing that you're getting twice the gas mileage of competing vehicles. Lexus is only selling 2,000 of them in the States per year, which makes 'em rare. You love pushing buttons, all 166 of them. Remote tilting DVD screen. World's best stereo. Killer headlights. Who doesn't want a hybrid limousine?



Why You Shouldn't Buy This Car:
Not green in any way, shape or form, no matter what the badges want you to think. Not as decadent inside as its $100,000+ price would indicate. While using a supplemental electric motor for more power is clever and novel, we'll take an actual V12, thank you. Toyota has a perfectly awesome 5.0-liter V12 sitting inside its epic JDM Century. In fact, bring on the Century! Not to be confused with a driver's car as the steering was shot up at the factory with Novocain and brakes have hair triggers. You just know that the computer could be rejiggered for mo' powa! The trunk is too small. Block-wide turning radius. The ride is so smooth it lulls you to sleep. $117,000 is Audi R8 money, yo. Supposedly, the LS600h L has over 100 servos and motors on board — that makes us nervous.
Suitability Parameters:
Speed Merchants: Yes
Fashion Victims: Yes
Treehuggers: Yes
Mack Daddies: No
Tuner Crowd: No
Hairdressers: No
Penny Pinchers: No
Euro Snobs: No
Working Stiffs: No
Technogeeks: Yes
Poseurs: Yes
Soccer Moms: No
Nascar Dads: No
Golfing Grandparents: No
Also Consider:
• Mercedes-Benz S600
• BMW 760Li
• Bentley Continental Flying Spur
• A warm bath
Vitals:
• Manufacturer: Lexus
• Model tested: LS600h L
• Model year: 2008
• Base Price: $104,000
• Price as Tested: $117,179
• Engine type: 5.0 Liter DOHC V8 + Permanent magnet electric-drive motor
• Horsepower: 438
• Torque: 385
• Red line: 6,600 RPM
• Transmission: Continuously Variable
• Curb Weight: 5,219 lbs
• LxWxH: 202.8" x 73.8 " x 58.3"
• Wheelbase: 121.7"
• Tires: 245/45R19
• Drive type: AWD
• 0 - 60 mph: 5.4 seconds
• 1/4-mile: 13.8 seconds
• Top speed: 130 MPH (computer limited)
• Fuel economy city/highway: 20/22 MPG
• Jalopnik observed: 20.6 MPG
• NHTSA crash test rating: N/A
[Photography by Amy Sampson]