If you've been paying attention, cars are actually a pretty big theme in whispery dream-pop artist Lana Del Rey's music. Her fifth record, Lust For Life, debuted earlier this year. Five songs in will bring you to "White Mustang" which just had its music video uploaded yesterday. There's just one problem: there is no Mustang in the video.
Before I get into further details and a close-reading of her lyrics, here's the video:
Have you, like I, noticed what's amiss? There isn't a goddamn Mustang, white or not, in the whole video for a song that's called "White Mustang." The only two cars present are a Volvo P1800 and a Studebaker Avanti. Which, don't get me wrong, are fantastic cars. But they are not Mustangs.
How do you have a song literally called "White Mustang" and have no Mustangs in the video? Did she and the music video's producers think that we would overlook this tiny detail? Did they think we'd just see two old and vaguely white cars and go, "Yeah! That's a Mustang!"
G/O Media may get a commission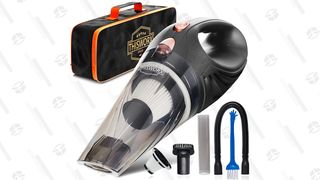 Save 50%
ThisWorx Car Vacuum Cleaner
I turned to Del Rey's lyrics for some answers. The arc of the song is basically her feeling forlorn because summer's ending (kind of like "Summertime Sadness"). She fell in love with a musician who had a white Mustang and she really thought she could make the relationship last past the summer, but that wasn't the kind of guy that he was. Everyone told her he was bad news but she went for him anyway. And now she's afraid that he's going to hurt her.
All of this seems to pivot around the white Mustang, which is essentially the third character in this narrative. It's what attracted Del Rey's attention to the musician in the first place: it perfectly fit the Bad Boy persona that we all know Del Rey loves to sing about. She fixates about the noises it makes and how they frighten her, perhaps implying that despite the attraction and tenderness she feels for the musician and his Mustang, he can still burn her:
You're revving and revving and revving it up / And the sound, it was frightening / And you were getting a part of that / You're gonna hit me like lightening
But the last few stanzas of the song are where things do a 180:
White mustang / Your white mustang / The day I saw your white Mustang / Said you're a wild Mustang

You're gonna hit me like lightening / You're gonna hit me like lightening
It's only at the very end as she's chanting "white Mustang" that she blends the words and makes the musician into a wild mustang. Is that what she means by "white Mustang"? That he was the white mustang all along? Metaphors? That would explain why there is no white Ford Mustang in the video, then. Perhaps I was taking things too literally. Silly me.
I guess it would fit. The long-haired musician (who kind of looks like the fake hippie guy) being a wild horse, I mean. She thought she could soften him, but he, as a wild mustang, could not be tamed. It just wasn't in his nature.
And also he is white. So there's that. I don't know. That seems a little too on-the-nose to me.
Or she's talking about his dick. Who's to say.
(h/t to @teenlibido!)