A Delaware judge granted Patricia Driscoll a protective order against ex-boyfriend and NASCAR driver Kurt Busch today. The outcome of a criminal domestic abuse investigation carried out by the police has yet to be released, but the judge's ruling comes two days before Busch is set to participate in the races leading up to the Daytona 500.
Despite all of the bizarre testimony given in this trial about Driscoll allegedly being an assassin or Busch allegedly being naked at the time Driscoll barged into his RV at Dover International Speedway, there was still a very serious allegation that Busch had smashed his ex-girlfriend's head against a wall last September.
The Associated Press reports that although the NASCAR chaplain who saw Driscoll at the track could not see any marks from the alleged incident, one of Driscoll's neighbors in Maryland spotted marks on her neck once she returned home several hours afterwards.

According to USA Today, Kent County Commissioner David Jones released the protective order today, and supplemental details and court opinions regarding the order will be released by Friday.
G/O Media may get a commission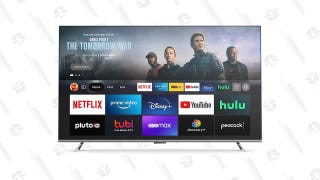 Save 46%
Fire TV 55" Omni Series 4K UHD Smart TV
Driscoll and her lawyers are relieved, as they continued to harp on Busch's temper and alleged that Busch had a problem with alcohol throughout the trial. Driscoll's charity, the Armed Forces Foundation, does a lot of work for veterans with NASCAR, so naturally, she was apprehensive about being in the same venue as Busch would be racing.
According to the protective order, Busch must now stay 100 yards away from Driscoll's residence and workplace and maintain "the maximum practicable distance" from Driscoll during all NASCAR events. "The respondent shall not threaten, molest, attack, harrass or commit any other act of abuse against the Practioner," the order reads. This order also prevents Busch from possessing a firearm. Furthermore, Busch will undergo a psychiatric evaluation for "mental health problems related to anger control and impluse control," as requested by Driscoll when she filed for the order.
The protective order is in effect for one year.
"We are pleased that the court ruled in our favor. Ms. Driscoll can now know that she will not receive any unwanted communications from Mr. Busch and feel that she is safe after nearly 5 months," Driscoll attorney Carolyn McNeice said in an email to USA Today.
USA Today also reported that Driscoll tweeted, "From my lawyer: GOT IT!!! Order for finding of Abuse entered today Opinion with supplemental findings to be available on Friday #ThankYouGod" this afternoon, but promptly deleted it.
Kurt Busch's attorney, Rusty Hardin, claims that they will appeal the order. "We deeply regret that Ms. Driscoll has been allowed to abuse the justice system in such a flagrant way," said Hardin, as quoted by motorsports reporter Jeff Gluck. Hardin maintains the claim made in his closing arguments for the hearing that Driscoll perjured herself on the stand.
Hardin had this to say of the impending appeal to USA Today:
Regardless of the Commissioner's finding, we know that Kurt never committed an act of family violence. The evidence was un-contradicted that Ms. Driscoll committed the criminal offense of trespass when she entered his motorhome at night, while he was sleeping, uninvited, without permission, and refused to leave when he repeatedly asked her to get out.

Mr. Busch's conduct was totally reasonable and legal under the circumstances. He never intentionally, knowingly, or recklessly caused her any injury.
The Delaware Attorney General has yet to determine if Busch will face criminal charges for the alleged domestic assault. The police investigation into the matter was completed before Christmas, yet the results of the investigation have yet to be released.
Likewise, it is unclear as to whether NASCAR will take any action against Busch in light of this ruling. While they certainly want to distance themselves from anyone guilty of domestic assault in light of other recent athletes' cases in other sports, Driscoll's civil ruling is separate from any possible criminal charges that may be filed.
"It is important to note that the Commissioner's ruling is...totally unconnected to any criminal investigation or finding," explained Hardin, as quoted by Jeff Gluck. Busch's legal team hopes that both NASCAR and Stewart-Haas Racing will make the distinction between this protective order and criminal charges that assess him guilty of assault.
To his legal team's point, the bar for winning a civil trial like this is less than it is for a criminal case. Criminal charges must be proven beyond a reasonable doubt, while civil cases often rely on a preponderance of evidence—as in, there just has to be enough evidence to tip the scales in the favor of one side over another.
The full text of the protective order against Kurt Busch can be found here.
Photo credit: Getty Images
UPDATE: NASCAR released the following statement in response to the ruling:
NASCAR has been closely following the civil proceedings in Kent County (Del.) Family Court regarding driver Kurt Busch and therefore is aware of the court order issued today. We now await the full findings of the Commissioner and any actions by the Attorney General of Delaware related to the allegations against Busch.

As we stated earlier, NASCAR fully recognizes the serious nature of this specific situation and the broader issue of domestic violence. We will continue to gather information and monitor this situation very closely, and we expect our members to conduct themselves properly.
No action will be taken against Busch by NASCAR at this time.