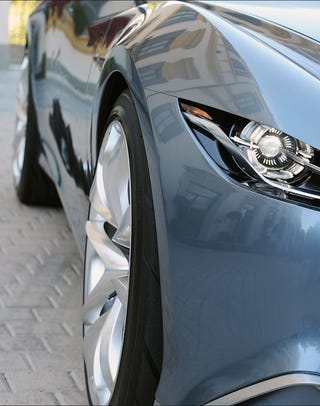 Mazda's evolved the Nagare design language that gave birth to the Mazda Furai, a concept so gorgeous it made it into our first Forzalopnik car pack, into a new language called "KODO." While attractive, it's no Nagare.
The first implementation of the Zoom-Zoom brand's new "KODO" design language — a design language described as "bringing form with a soul to life" — is the Shinari concept unveiled yesterday. The word Shinari can be roughly translated as "resistance to being bent" and reveals a design language that is less of an organic style than Nagare, but that still takes its cues from the natural world.
While the resulting influence of the design language ends up with a concept car that looks a bit like a Jaguar XF made sweet love to a Furai-derived RX-8, there's still no doubt it's a beautiful derivation. But part of us laments the death of Nagare — a design language so striking, so polarizing, so sexy, it looked like nothing we'd ever seen. We loved it. We craved it. We wanted it inside us.
While KODO is nice, it's not going to be raved about among car guys the way Nagare was — it'll merely be enjoyed. There's value in that — especially when you're a brand looking to take a leap squarely into the middle of the market. But it won't provide the same gasps and chills as its predecessor.
AutoBlog's Drew Phillips got a first-hand look at the new concept. Check out all its curves there.