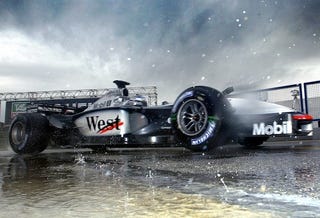 Soaking up an Italian downpour in his McLaren MP4-17 is the Citroën Junior Team's new rally driver Kimi Räikkönen, returning to the pits during free practice at the 2002 San Marino Grand Prix.
It was not a successful weekend for the Finn, who would spend five years with McLaren before leaving for Ferrari to win his only driver's title: he retired on lap 44 with a broken exhaust pipe.
The rest of the season commenced in similar fashion, as every car and every driver played a sideshow to Michael Schumacher's class act in the Ferrari F2002, with which the German finished every race of the season either first or second.
Still, what a way to show that devastating motorsports photography does not necessarily require winning cars, balmy weather, or 200+ MPH speeds.
Photo Credit: PATRICK HERTZOG/AFP/Getty Images