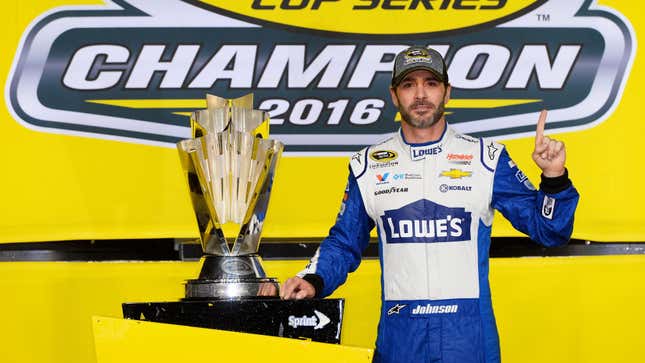 Last week, Jimmie Johnson was named the 75th of NASCAR's 75 great Cup Series drivers, a ranking completed by the series in honor of the sport's 75th anniversary. It seemed a little bit like he was added as an afterthought, which is definitely strange to say about a seven-time Cup Series champion, but Johnson suffers from one of the strangest unspoken rules of motorsport: he was just too damn good.
See, fans want drivers to display a certain level of skill, but that skill can never be a dominant one. There needs to be a certain level of competition, a certain amount of healthy rivalry, for fans to recognize a driver's true skill. If you've watched F1 in the recent past, you know how tiring it could get for Michael Schumacher, Sebastian Vettel, Lewis Hamilton, and Max Verstappen to just win everything all the time, generally without any significant competition.
Something similar happened with Johnson — even though single-car dominance still requires a hell of a lot of driving talent. For some reason, fans aren't able to perceive a great talent without an equally great talent to pit it against. Would we be able to see Jeff Gordon as such a legendary driver if he hadn't had Dale Earnhardt to battle? How much of our respect for Richard Petty came from his battles with David Pearson? It's hard to tell.
But Johnson's achievements are numerous enough that it shouldn't be a question of whether or not he was truly good. That should be obvious in the fact that he's tied with Petty and Earnhardt for the most number of Cup Series championships of all time. It should be obvious in 83 career race wins, 222 top fives, 341 top 10s, 35 pole positions, two Daytona 500s, and countless Driver of the Year awards. It shouldn't have taken NASCAR 75 drivers to get around to naming Johnson as one of the best in its retrospective — but maybe we can thank Matt Kenseth for calling Johnson's omission to NASCAR's attention.