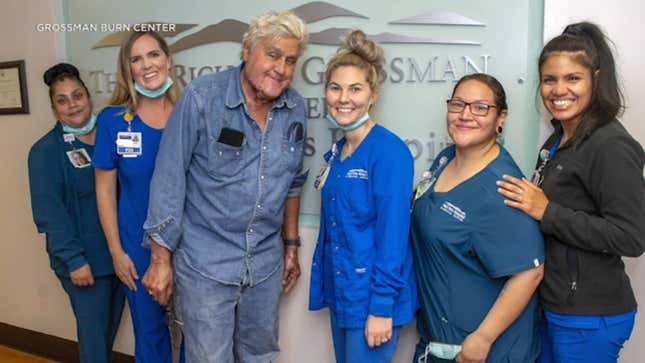 Noted car enthusiast, the host of Jay Leno's Garage and former host of The Tonight Show, Jay Leno, suffered serious burns to his face and neck on Sunday, November 13, when attempting to repair a clogged fuel line on his White steam car. These injuries sent him to a specialist medical facility for treatment, but according to a report published by Road & Track on Monday, Leno has been released.
The 72-year-old comedian looks a little worse for wear after his stay at the Grossman Burn Center in West Hills, California, but he's expected to make a full recovery, according to his physician, Dr. Peter Grossman.
"Jay would like to let everyone know how thankful he is for the care he received and is very appreciative of all of the well wishes," said the hospital in a statement. "He is looking forward to spending Thanksgiving with his family and friends and wishes everyone a wonderful holiday."
Despite his injuries, Leno is shown in a photo released by the hospital in his signature Canadian Tuxedo and with a smile on his face. We here at Jalopnik hope he finishes his recovery swiftly and gets back to driving weird cars on YouTube.