Exterior Design ***
What a drag it is getting old. You go for something sensible and safe and people call you a fuddy-duddy. You go for some fresh and funky and flame-surfaced and people call you a barbarian. Mercedes plays it straight down the middle with a classically proportioned three box design. It s stunning in its unobjectionality. I still can't abide those weird-ass swoopy headlights and the woosy little grill it engenders.
Acceleration ***
After ten years niche chasing with bizarre automotive mutations, MB finally got around to freshening-up the E-Class' pokey powerplant. This bigger, more highly valved, twice overhead cammed V6 has finally got the goods to go Bimmer chasing. Lots of horses (268) and loads o torque (258 ft-lbs.) make it an ostensibly frisky fillie. Ostensibly cause the E350's throttle was designed by a Driver s Ed instructor who got tired of putting a tennis ball behind the accelerator.
Braking ****
Plenty mushy, plenty powerful.
Ride ***
On smooth surfaces, you couldn t ask for a better Buick. On broken surfaces— especially through the twisty bits— everything goes a little pear-shaped. In fact, the ride gets so nuggety it s a wonder McDonald s doesn t sell it in little cardboard boxes.
Handling **
The E350 doesn t handle per se; it sashays around corners like a ballroom dancer on Ludes. The only problem— and I mean this in the nicest, most luxury loving kinda way— is the way it feels once you turn in. It doesn t. There s no feeling whatsoever through the helm— which makes dialing-out steering lock an entirely intellectual process. OK in parking lots. Murder at speed.
G/O Media may get a commission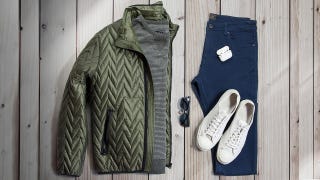 60% off
Jachs NY Fall Sale 60% Off

Gearbox *****
Mercedes makes some of the world s best gearboxes. Although it s nothing new or special, the E350's five-speed is perfect, slurring changes like a professional slide guitar player. [NB: The rear-wheel-drive E350 has the new 7G-Tronic gearbox. Reports are filtering in about excessive and unnecessary gear hunting ]
Audio/Video ***
Nice stereo. No iPoditude. And...?
Toys *
Low celestialism due to the peculiar fact that our test car was lightly specced. Where s the fun in that?
Trunk ***
What a trunk! The trunk of my dreams! Deep, carpeted, cavernous. But Jesus, does that flimsy ass trunk lid (made of aluminum to save weight) fly up in a hurry! I almost knocked my wife out with a single plip. Take that as a criticism.
Overall: ***
Related:
Jalopnik Reviews: 2006 Mercedes E350 4Matic, Part 1, Part 3 [internal]