So I was heading toward the new Commander when a-million-miles-from-MILF Mommy commandeers me. "Is that the new Jeep?" she asks, cutting off my escape route. Oh crap. She gazes at the Commander
s ungainly form like a crutch-wielding supplicant encountering a vision of The Mother Mary polishing the cross at Fatima
s Little Chapel of the Apparitions.
I heard it
s got a third row,
she announces with alarming interest. As a professional car reviewer, I am committed to telling the truth, the ugly truth and the really entertaining ugly truth. But I thought, screw that. Let
s do this empirically.
So I pop the Commander
s hatch, yank up the fold-flat seat and show the child-ferrying harridan the back of the bus. I move aside so she can see that the legroom is as shallow as the British Royal Family
s gene pool.
Lots of room back there,
she remarks.
If you know what I mean.
I don
t, and I don
t want to. To distract her and physically remove myself from her immediate vicinity, I clamber into the rear row and try to resist the urge to scratch my nose with my right knee.
Terrific!
she pronounces, as if she was hoping that the Commander
s
extra
accommodation would violate The Geneva Convention.


I mumble something about the hallucinatory effects of branding. She doesn
t even duck. I retreat to the Commander
s helm to try and sort out what just happened. My analytical abilities are short-circuited by the steering wheel
s faux chrome center ring. It
s about as convincing as the ad for Valenti International Matchmaking that
s been cluttering The Robb Report
s classified section since the day of The Excalibur. Why in God
s name are there fake Allen screw holes in the thing (the steering wheel, not Irene Valenti)? The ones in the dash are at least real fake Allen screw holes. The wheel ones are embossed, for Christ
s sake.
G/O Media may get a commission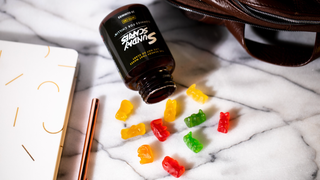 10mg CBD Gummies (22-Count)


I look out the window for inspiration — and because it helps me avoid driving into shit. And the Jeep-fawning Mom moves further from my frontal lobe;
cause now I
m wondering why I
m looking through a windscreen with the exact same forward aperture as a Brink
s armored car. While I can understand Jeep
s decision to stop breeders from defecting to Suburbania — a marketing move made when fuel consumption and penury were entirely unrelated concepts — why would Jeep
s bigger, badder behemoth offer less visibility than its smaller siblings?
Come to think of it, why would Jeep design the Commander
s exterior with all the unrelenting angularity of an
89 Cherokee Limited when they spent the last three model cycles smoothing out the edges? Was it some secret stoner
s attempt to bring Toyota FJ retro-style to Jeep
s burgeoning off-road party? If you don
t know there
s a difference between nostalgia and the agonies of the actual past, you shouldn
t be in charge of a multi-million dollar development project. The Commander is as cramped as any disco era off-roader and ugly enough to make a Veyron take a dirt road.
I kill Peter Frampton and put my foot down — and still fail to escape the 70
s flashback. The old 4.0-liter Cherokee Limited would scare you to attention (and outdrive its brakes) within six seconds of starting off. The new [4.7-liter V8] Commander is a dull, constant, longwinded reminder that all that newfangled safety, comfort and seating stuff weighs a GD ton. The non-Hemi Commander isn
t exactly slow, but it
s not exactly nimble either. In fact, driving the mid-model Commander quickly is a bit like using a Gold Wing motorcycle to move house.
As I pilot the seven-seater to home base, I wonder why other automakers are so good at hiding heft, whereas the big Jeep feels like the Queen Mary III. Let
s hope it
s got something to do with phenomenal towing capacity and Rubicon crossing off-road ability. In any case, the new Commander is ugly, slow, cramped and thirsty; at a time when thirsty demands some kind of compensation.
Well, OK; it
s a Jeep. As I learned during that fateful school run, consumers who
ve emotionally invested in the Jeep brand wouldn
t care if the Commander came with a government warning against the possibility of death by DVT (I
d like to see the pictogram for that one). These loyalists consider it enough that the new Commander will get them- more of them- there and back. Fair enough. But I can
t help but feel that the vehicle was designed to prove that more is sometimes less. More or less
[by Robert Farago]
Related:

Jalopnik Reviews: 2006 Jeep Commander, Part 2, Part 3 [internal]