Welcome to Must Read, where we single out the best stories from around the automotive universe and beyond. Today we've got reports from States of Motion, Petrolicious, DC Auto Geek, and Gawker.
The Nissan GT-R might be incredible on paper, but to a number of enthusiasts, driving and interacting with it leaves a lot to be desired. And that's true for a number of reasons.
Four committed car guys standing around at a party at the Classic Car Club in downtown Manhattan, relaxed, pleased to be among their own kind, idly chatting. Off to one side sits a gunmetal-gray-metallic Nissan GT-R.

Unbidden, one of the quartet says, "Y'know, I've just never warmed up to the GT-R."

Three heads nod knowingly. This is not a controversial opinion. It is common, understood, innately correct.
G/O Media may get a commission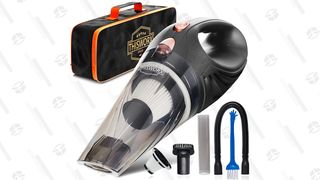 Save 50%
ThisWorx Car Vacuum Cleaner
I like motorcycles, but I know very, very little about them. The story behind this bike, which was run by the legendary Mike Hailwood, is a must read for anyone with even a vague interest in two wheels. I'm now in love with this bike.
In only 250cc Honda managed to squeeze in six tiny cylinders, four cams, and 24 valves the size of pencil erasers. Fed by six diminutive carburetors, it revved to nearly 20,000 RPM and made 65 HP—extrapolated over two liters, that makes for a 48 cylinder, 192 valve, 32 cam, 520 HP motor.
Sometimes it seems like newspapers are hopelessly old fashioned when it comes to auto reviews. Here's when they were on the cutting edge.
We live in an era of always on, always connected; an age of instantaneous information. Today the life of a story is measured in minutes and the coarse feel of printed news is foreign to most.

And while technology and the need to be first are to blame for the relentless churn ofnews media, technology also allows us to preserve and recall our historical narrative.
– Gawker
An incredibly poignant account of the impact texting and driving can have on a family. Really makes you think.
Alexander Heit, a University of Northern Colorado student from Boulder, passed away earlier this month from injuries he sustained after losing control of his car and flipping over while driving through Greeley.
He was texting at the time.