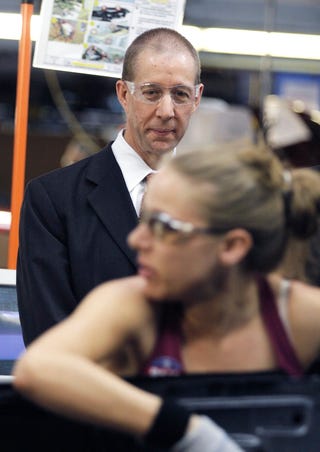 Here's a shot of Assistant to President Barack Obama for Manufacturing Policy Ron Bloom watching a female auto worker on the assembly line during a tour before yesterday's announcement of the repayment of the remaining $5.9 billion of Chrysler's $10.5 billion loan from the U.S. Government at the Sterling Heights Assembly Plant May 24, 2011 in Sterling Heights, Michigan.
The only question we've got: Is Ron Bloom checking out the car's tailpipe or the tail of the blonde UAW worker installing the tailpipe?
One more shot above of him obviously not looking at said UAW worker's trunk.
Photo Credit: Bill Pugliano / Getty Images News