This is The Morning Shift, our one-stop daily roundup of all the auto news that's actually important — all in one place every weekday morning. Or, you could spend all day waiting for other sites to parse it out to you one story at a time. Isn't your time more important?
1st Gear: From Car Brand To Lifestyle Brand
We've been critical of some of Ferrari's tactics around here, and it's probably benefited us as there's an obvious price to pay for always swallowing Ferrari's line. One thing it's hard to be critical of are the financial results.
While Ferrari CEO Luca di Montezemolo is out at Ferrari over differences with Fiat Chrysler CEO Sergio Marchionne, I think it would be wrong to expect a massive and sudden shift in strategy.
G/O Media may get a commission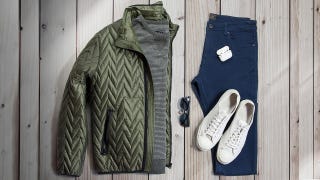 60% off
Jachs NY Fall Sale 60% Off
Luca di, whether you liked him or not, was extremely good at what he did and made Ferrari obscenely profitable for a high end luxury supercar maker. Even with the whole "let's build fewer cars" strategy they made more money. How? The company is as much a lifestyle brand as it is a car brand. They may not sell you an F12, but they'll gladly sell you an Acer laptop with a Ferrari F12 key.
This makes Marchionne's move to oust Luca di (he "quit" before he could be fired essentially) somewhat more logical. If Ferrari is a lifestyle brand that lifestyle is one that implies victory and, frankly, the company isn't doing that anymore.
Everyone seems to be reporting the same thing: It's about the F1 team. Here's the WSJ's representative take:
While the rift between Messrs. Marchionne and Montezemolo has been brewing for at least a month, it accelerated Sunday when Mr. Marchionne, speaking just hours before the Italian Grand Prix, praised Mr. Montezemolo for having achieved excellent business results, but said it wasn't acceptable that Ferrari hasn't won any titles since 2008. Mr. Marchionne said nobody occupying a position of power at the company was indispensable.

"Luca and I have discussed the future of Ferrari at length," said Mr. Marchionne in a statement, "and our mutual desire to see Ferrari achieve its true potential on the track has led to misunderstandings which became clearly visible over the last weekend."
One gets the impression that Luca di thought the financial success of the company would save him. Nope.
Still, other than shaking up the F1 team and scaring everyone who works for it, is there any indication that Sergio will massively overhaul Ferrari's car offerings or ramp up production to 9,000? I haven't seen it.
2nd Gear: Women Basically Want What Men Want In A Car
This AP article about recent research on what men and women look for when buying a car opens with the premise that, mostly, all human beings would like decent looking cars that perform well and are a decent value.
There are, according to TrueCar and others, subtle differences though and those are important as "women represent the biggest marketing opportunity in the world" according to Ford's U.S. marketing director.
Some of these "trends" seem sort of obvious (women buy fewer large trucks), although some of these seem like an overreach:
Horsepower is important to men, which helps explain why Lamborghini has the highest proportion of male buyers of any brand, at nearly 95 percent, according to the car shopping site Edmunds.com. But it's also important to women, who want to know that they can accelerate quickly away from a problem, Lenard says.
Not sure I buy that.
3rd Gear: Senate Now Looking Into NHTSA
Though NHTSA has done a decent job of getting the attention foisted onto GM for their general shitty behavior, it's worth noting that NHTSA's job was to prevent that from happening.
David Shepardson has the dope after talking to Senator McCaskill, who has turned the senate panel on auto safety into a pretty sweet TV gig for herself.
In a Detroit News interview Tuesday, McCaskill said she will look at NHTSA's capabilites and question why it failed to discover for nearly a decade GM's ignition switch defects that have since been linked to at least 13 deaths and 54 crashes. Earlier this year, more than a decade after some inside the automaker knew of problems, GM recalled 2.6 million Chevrolet Cobalts, Saturn Ions and other cars because the key can accidentally turn off ignition switches, shutting down the engine and disabling power steering and air bags.

"I'm interested in the capability NHTSA has to get at problems. They've obviously missed some big ones," McCaskill said referring to the failure to press GM on ignition switch complaints. "The part of NHTSA that is responsible for monitoring issues like (GM) — they haven't even asked for an increase in staff and cars have gotten a lot more complicated."
She may be reveling in the spotlight a bit much, but she's not wrong.
4th Gear: Woman Buying Cars You Say? Jag Noticed
Perhaps this article from Reuters can explain whatever the hell that Jaguar launch was:
Nick Miller, chief program engineer of the XE series, told Reuters the XE sports sedan would expand the reach of Jaguar, traditionally associated with older, wealthier men.

"We think the customers are likely to be younger, earlier in their life stage, they are more likely to have children ... they are more likely to be female," he said.
Yep.
5th Gear: Mr. Kruger To Run Infiniti
Johan de Nysschen took the red eye out of Hong Kong in July, choosing GM's Cadillac brand over Nissan's Infiniti. Andy Palmer, another Nissan exec, would have been a nice replacement but he left for Aston Martin.
That left Nissan looking outwards for help and now Bloomberg reports that BMW exec Roland Kruger (pictured) will take over.
Here's a bit of history:
Kruger joined BMW in 1998 as a manager of strategic product planning. He has headed product planning and marketing for the Asia-Pacific, Africa and East Europe regions and served as managing director of the BMW Group in Asia and CEO of BMW's Japan unit. He was appointed to his most recent position at the German carmaker in 2013.
Anyone know anything about this guy? I have no real experience with him.
Reverse: 25 Shillings!
On September 10, 1897, a London cabdriver named George Smith slams his taxi into a building and is the first person to be arrested for drunk driving. He pled guilty and was fined 25 shillings.
[HISTORY]
Neutral: Is Ferrari Going To Change? Do you think I'm wrong, do you think Ferrari is going to make a sudden correction? Why? What are tehy going to do?
Photo Credit: AP Images