The Formula One rumor mill is alive and kicking, despite most of the grid being settled by now. No, the rumor mill demands a sacrifice! A McLaren sacrifice! While McLaren driver Fernando Alonso has two years left on his contract with the team, some are speculating he may take a sabbatical if the car is still a turd. More than likely this is bullshit.
Alonso has been vocally unsatisfied with the performance of the McLaren with its brand-new Honda power unit, comparing it to a "GP2 engine" for being so slow over the team radio at the Japanese Grand Prix. Most recently, Alonso was penalized for a collision with Pastor Maldonado in the season finale race at Abu Dhabi, and he even suggested retiring the car after that collision.

Thus, rumor-thirsty fans are wondering if Alonso might decide to spend his time elsewhere.

McLaren chairman Ron Dennis set the rumor mill back in motion when speaking to reporters at the Abu Dhabi Grand Prix, as quoted by James Allen on F1:

[Alonso] will definitely finish his career at McLaren. I have an open mind to anything – and some of the ideas have involved those sorts of considerations, sabbatical years, etc.
But at this moment in time, I would say that we believe we know where we will be. I think we navigated a difficult weekend [in Japan] in respect of our drivers. I took quite a high level of flack out of that weekend and it was a challenge to navigate out of it, but nevertheless, here we are.

We have a great number of driver options and two of the best drivers in the world in our cars. When we have to take the decision we will take it together, at this moment in time our drivers for next year are Fernando Alonso and Jenson Button.
G/O Media may get a commission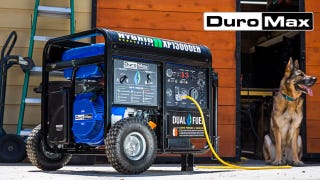 Black Friday Sale
DuroMax Generator Sale
Oh, how the rumor mill loves phrases like "we believe" and "at this moment in time." That's a lot of hedging for a driver lineup that's supposedly settled.

Alonso, of course, denied the rumor, telling James Allen on F1:

I will be on the grid [in 2016]. I have been answering the same question to all of your [media] colleagues. When Ron says something you have the perfect opportunity to clarify some of his quotes.
To Alonso, this includes clarifying that the sabbatical idea was just one of many possibilities that were discussed with Dennis—but he would have taken it during Honda's teething year of 2015 instead. He continued:

I discussed many ideas, crazy ideas, but not at this point of the year. I have a contract for the next two years and my intention is to race. It is too easy to go to one test and [think you] know how competitive [you are] and how the season will go. That is impossible.

In the first test, if we are second or if we are ninth it will not change my approach or my intention to keep winning that season. It is only one test.

If you take a sabbatical, I take this year. But I keep racing, keep fighting and I kept pushing a car uphill to go to the pit lane.
Ultimately, Alonso finished out the race at Abu Dhabi's Yas Marina Circuit in miserable 17th place, but he did finish it out after his collision, collecting yet more data for the team to work with in the offseason.

Alonso also told James Allen on F1 that he was heading into seat fittings and simulator tests for the 2016 car immediately following the 2015 season finale, so this rumor sounds more and more like the made-up daydreams of someone who read just a bit too much into Ron Dennis' statement.

Sure, there's always the possibility that Alonso could be so disappointed in the performance of the 2016 car that he opts to sit out a year, but even that seems unlikely with one more year after that still in his contract. After all, if he takes a year off, the car will develop around his replacement's preferences—not his own.

Even Ron Dennis is now clarifying his own statement. When asked if Alonso could take 2016 off if he continued to be disappointed in his car's performance, Dennis told the BBC:

That's not an option, we are totally committed. We know where we are going. We're going in the right direction. We are very confident with where we are on next year's car and very optimistic about all the work Honda is going and we anticipate being much stronger from the beginning of the season.
If Alonso rage-quits the 2016 season, it sounds like he wouldn't just be taking a sabbatical—he'd just get replaced.

For now, it looks like #PlacesAlonsoWouldRatherBe will live on only as a meme, and not as reality. Photoshop away, my darlings. That's the closest we're going to get to an Alonso sabbatical.

Photo credit: Getty Images

---
Contact the author at stef.schrader@jalopnik.com.