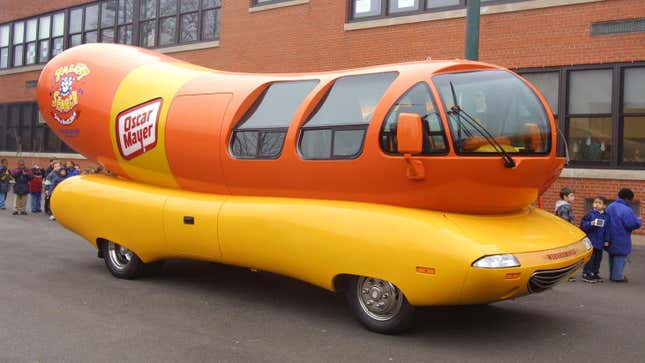 This will come as a shock to absolutely no one, but people are rubbing fronts onboard the beloved and iconic Oscar Mayer Wienermobile. Well, it's not going to be the Wienermobile for long, but for the purposes of this story, it's a far more fitting name.

Anyway, a new article published in Slate details, among other things, the sex lives of those blessed to pilot the 'mobile. There's a lot of background information about the Wienermobile and its history, but none of that is really important for our purposes. We want to know about the fucking, and there does seem to be a whole lot of it.
Things apparently start getting hot and beefy at Hot Dog High – a mix between a training course and an adult summer camp for 12 Hotdoggers-in-training for two weeks in Madison, Wisconsin before they can hit the road. The Hotdoggers aren't alone, though. They're joined by folks from the Planters Nutmobile who are fucking at an honestly alarming rate – especially with Wienermobile employees. We learn all this from our titular characters/Hotdoggers: Little Link Lauren and Nacho Dog Nick, who are reportedly not having sex with each other.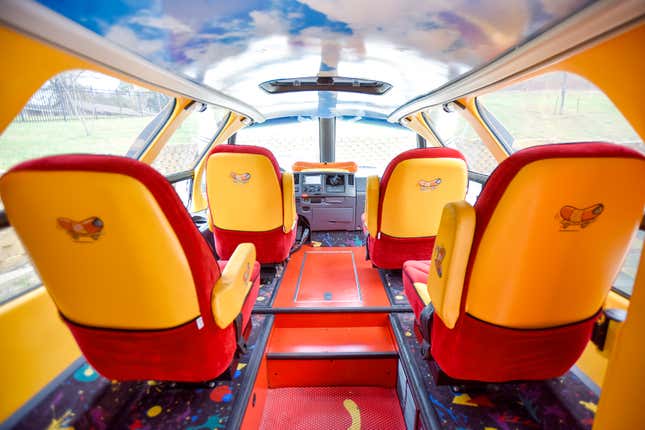 I cannot in good conscious summarize what the author wrote as most of these words do not exist in The Bible, so I'll just copy it over from the Slate article:

Please forgive me for what I am about to say, but what you need to know is that the twentysomethings in the Nutmobile fuck. They, uh, they nut. They don't work for the Nutmobile for nothing, and they nut into Wienermobile employees more than they nut into the other Nutmobilers. These are the facts as they've been presented to me, and you can't be happy to know them.

Little Link Lauren and Nacho Dog Nick cannot vouch for why there are so many Nutmobile drivers who fall in love with Wienermobile drivers, only that they firmly believe they belong to the superior caste. "This sounds mean, but most people want to drive the Wienermobile," Lauren says. "Not the … well, you know."
Sorry/you're welcome for having you read that.
It's not just the cross pollination of nuts to dogs – the Hotdoggers also apparently get after it. The article says that something like half of all the Hotdoggers on the road during the peak of the pandemic in 2020 ended up dating, and at least one of those couples are now engaged. Lovely stuff. It doesn't take a genius to realize that they were indeed fucking in the hot dog.
Okay, okay. I don't want to give too much away, because this whole Slate article is filled with so much interesting behind-the-scenes Wienermobile tomfoolery – more than just fucking. The author apparently also wrote a book about the subject, because I assume she's got wieners on the brain. Who among us doesn't?