Oh, bless your hearts. At turn three of the first lap of today's season-opening IndyCar Grand Prix of St. Petersburg, Charlie Kimball went for a gap that soon disappeared between Graham Rahal and the wall. It didn't work out.
Commentators noticed that the St. Petersburg street course is particularly diabolical in the way it narrows sharply after the start/finish line. Still, it's frustrating to see IndyCar's first lap of 2017 end up under a yellow flag.

Kimball collected Carlos Muñoz after his car spun Rahal around, and Mikhail Aleshin's car was damaged in the whoops as well, per the commentary team. Fortunately, no drivers were hurt in the melee, and Rahal—who didn't even notice Kimball back there—is already back on track.

G/O Media may get a commission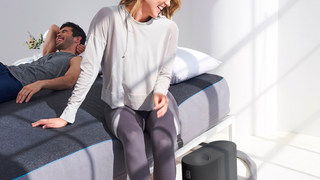 Eight Sleep Pod Cover
Hopefully this got the crashiness out of IndyCar's system early. There's zero forgiveness on a street course where the walls are right at the edge of the track.
UPDATE: JR Hildebrand also had some damage from the mini-pile-up: