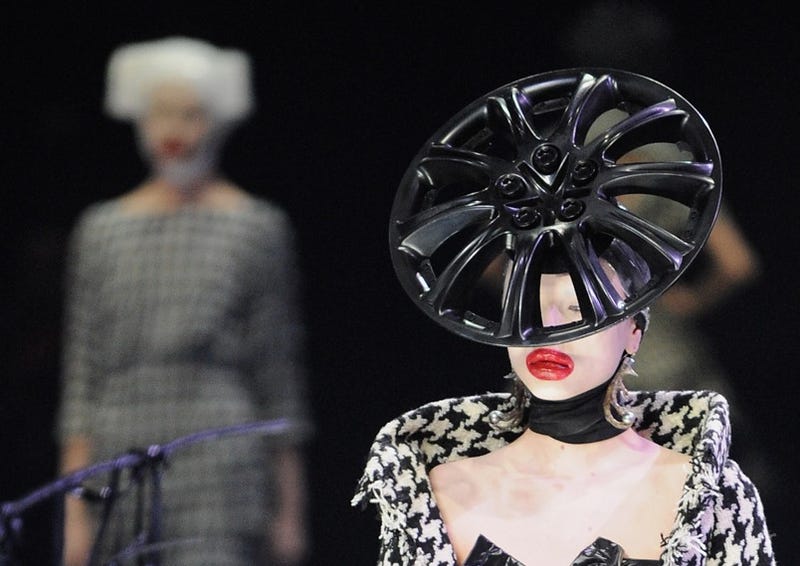 Looking for a proper dress to wear for driving? Look no further: Alexander McQueen's Fall/Winter 2009/2010 collection might be the answer.
When you say McQueen in a car magazine, it's usually Steve. Time for an exception: Alexander McQueen is a Savile Row-trained British designer who has been making outrageous clothes for over a decade now. His latest collection, shown at the Paris Fashion Week in front of an automotive scrapheap, features an outfit with a proper black chrome car wheel as a hat.
It may not be immediately obvious, given the Marilyn Manson makeup, the equally weird hats and the parachute-sized skirts, but the clothes in the English designer's fall/winter collection are ready to wear.
Damned European libertines, you may be thinking, but it's these exact same libertines, shaping carbon fiber and titanium instead of silk and feathers, who supply the car nerds of the world with our regular hits of supercar. A Pagani Zonda with a racing engine and a quilted leather interior is no less decadent than a bony woman with an umbrella on her head.
And just imagine the baroque visuals on city streets if supercar owners started wearing stuff like McQueen's prêt-à-porter. Women emerging from Murciélagos with whole flocks of birds on their shoulders.
Hat tip to gearhead fashion designer Anna Péter.
Photo Credit: Pascal Le Segretain/Getty Images, FRANCOIS GUILLOT/AFP/Getty Images