Since most of us don't have the cash for a 911 Turbo or a Jag F-type, we are big fans of hot-hatches and sport-compacts that fit within our modest budget. However, when these pocket-rockets first hit the market, often the law of supply and demand is not in our favor. The Focus ST, BRZ, and FRS, just to name a few, were not as "affordable" as they could have been within their first year of sale. But as with most popular items as time passes on, prices go down. So if getting the best deal is important to you, it might be best to wait.
Not long ago I helped a fellow Jalopnik reader acquire a Fiesta ST. He was shopping at a time when inventories were limited and discounts were difficult to come by. I found a price he was happy with and he was able to take delivery quickly. The Fiesta is still a hot seller, but there are deals to be had if you shop smart.
As I mentioned earlier the Focus ST had a similar situation as the Fiesta ST, low inventory and high prices. Some dealers in the first few months even tacked on serious markups. Now you can get a new '14 Focus ST (MSRP 24,450) for not much more than the Fiesta ST above. Given the Focus's additional power and space, it would seem to be the better buy than its smaller brother.
G/O Media may get a commission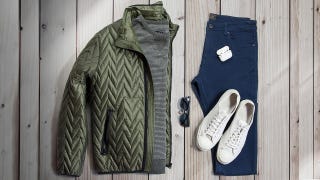 60% off
Jachs NY Fall Sale 60% Off
I was super excited when the Veloster Turbo debuted and was pretty determined to get one when the lease on my Mazda was up. A disappointing test drive coupled with low inventories and uncooperative dealers, I removed that car from my shopping list. While the Veloster Turbo was not quite the GTI fighter we had hoped, the fact that you can get one cheaper than a Sonic RS, now makes it a pretty good value.
The Fiat 500 Abarth might not be the quickest, but it certainly has the most attitude per dollar, especially when you can find "new" 2013 leftovers for around 16 grand. I don't know if I could daily-drive something that small, but for that price it could make for a great second or third car.
The Toyobaru, a.k.a. the BRZ and FR-S, will probably go down in automotive history as one of the most hyped sports-cars of our generation. Despite reports of slow sales, it appears that prices are still holding strong. But if you are lucky you can find examples for thousands off MSRP.
For the sake of fair comparison all the examples listed above are new cars, of course if you look into the pre-owned market you can find even better values. I should also mention that many of these internet prices have rebates and discounts already included, so be sure to see what you really qualify for. Some people are willing to pay top-dollar for a car that is first hitting showrooms, but for those of us with time on our side, it could mean thousands in our pocket. The 2015 WRX is just might be the best one yet, but might be worth holding out a little longer.
I'm Tom and I run AutomatchConsulting.com; I also write articles about car buying. If you have any questions about the car-buying process feel free to drop me a line in the comments or find me on Twitter @AutomatchTom and Facebook.com/AutomatchConsulting
(lead image via MotorTrend)