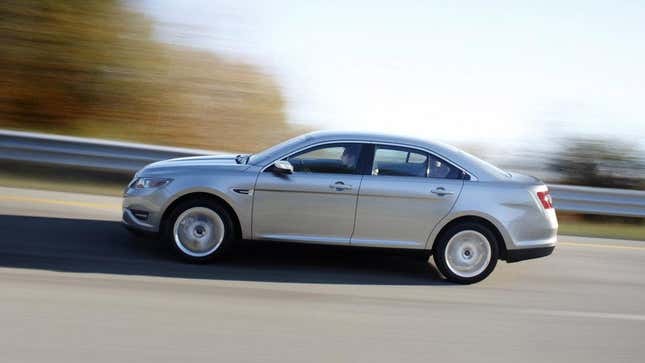 Fritz submitted an entry for his dad who is currently driving a 2011 Taurus. The Ford has been sturdy but it's getting up there in age and he is looking to upgrade to something that rides a bit higher and has better visibility. What car should he buy?
(Welcome back to What Car Should You Buy? Where we give real people real advice about buying cars. Do you want us to help you find a car? Submit your story on our form.)

Here is the scenario:
My dad has a 2011 Taurus Limited he got back in 2017 for $6k. He got it with 95k on the clock, and it now sits at 132k and is starting to show its age. He says he wants a 2 row SUV with (in his words) some presence for around $20k. He also likes his features on the Taurus (it has everything except nav). I know the options for this price bracket are slim, but I want to see what you guys think. I figure any SUV would be good for visibility, since the Taurus has awful outward visibility. He would prefer not a German or American made car.
Quick Facts:
Budget: $20,000-ish
Location: Overland Park, KS
Daily Driver: Yes
Wants: SUV/Crossover, good visibility, nice features
Doesn't want: An American or German car
Expert 1: Tom McParland - The Sensible Choice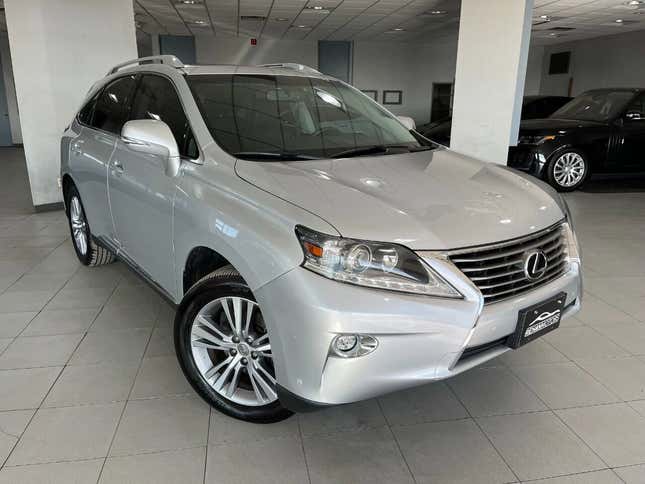 Upgrading an older car in this market certainly is challenging, but your dad seems to have some fairly reasonable parameters, and most vehicles that are moderately equipped will feel like an upgrade over the Taurus. Given that his Ford is technically considered a "full size" sedan, I imagine he doesn't want to dip into the "compact" SUV space with something like a CR-V or RAV4. So perhaps something in that "in-between" segment that has two-rows but is a tad bigger than some of the standard choices.
You should probably look for the nicest Lexus RX you can get your hands on. It will have all the luxury features you are used to in the fancy Ford, will be super comfortable, and definitely easier to see out of. The Lexus, if well cared for, should also last quite a while since these are known for being fairly indestructible. Finding examples, with reasonable miles under $25,000 is not going to be easy, but I did see this 2015 with under 50,000 miles. It does have a "minor accident" reported on the history, but that usually means something cosmetic in nature. This is also a front-wheel-drive car which may also explain why it's not as in-demand. But forgoing extra drive wheels for low miles and Lexus build quality is a good trade off.
Expert 2: Collin Woodard - Get Some Wind In His Hair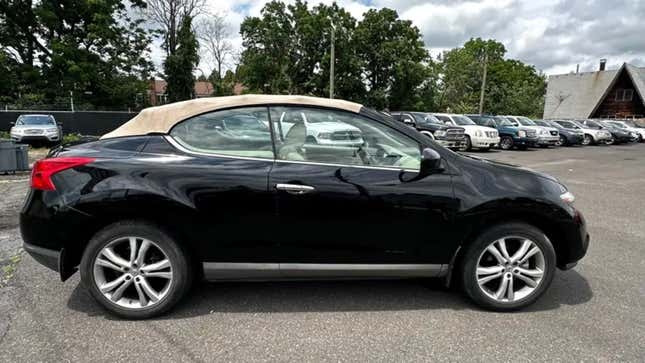 After a brief hiccup last time around, Tom is back to his old habit of making the best recommendation right out of the gate and leaving the rest of us to come up with suggestions that everyone knows aren't as good. Whether your dad knows it or not, he wants a Lexus RX, Fritz. But what if, for whatever reason, he doesn't want a Lexus RX?
Perhaps he knows a crossover is a practical purchase but wishes he could justify buying something that's a little more fun. Maybe he owned an MGB back in the day and would love to relive the glory days of top-down fun, the wind in his hair and the freedom of the open road. Could he possibly find something that still offers a lot of the practicality of a Lexus crossover but is also a convertible? Yes. Yes, he can.
If your dad decides to pass on the Lexus RX, which is definitely the correct car to buy, I say point him in the direction of the Nissan Murano CrossCabriolet. Finding one in Kansas will probably be an impossible task, so you'll also have to introduce him to the concept of having a car shipped to his door, but remember, it's his fault that he didn't want the Lexus RX that he should have gotten. He's the one who insisted on getting something different. And the Murano CrossCab is definitely different.
The good news is, since no one wants them, you can get a low-mileage Murano CrossCab for well under $20,000. For example, here's one with only 46,000 miles for a mere $11,999. Even with the added cost of transporting it to Kansas, he'll still have plenty of money left over to fix anything that's wrong with it. Or, you know, he could just buy a Lexus.
Expert 3: Andy Kalmowitz - Ignore Every Instinct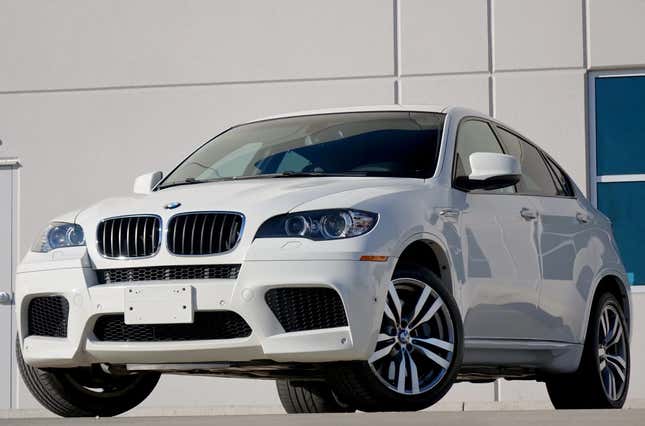 Fritz, everything in your head and your gut is going to tell you this is a terrible idea. I am even going to tell you it is a horrible idea, but you gotta ignore that. What your dad needs deserves is an 11 year old BMW X6 M. Please disregard the fact that the one thing your father asked for was good visibility. The X6 M does not have that, at least not out of the back. Up front, the visibility is fine, and that should count for something.

Sure, there are plenty of very reasonable choices for your father here. Better choices even, like the RX, but where's the fun in that? Oh, you're saying the Murano CC is fun? Sure, but as a bit. Since your father is an older man from Kansas, I'm going to go out on a limb and say he's not really into bits. Neither is the X6 M.
It's a serious vehicle for serious people. With a twin-turbo V8 engine, an M-tuned suspension and all of the coke white paint you could ask for, your father is really going to have that presence he's after. It's also got all of the gizmos and gadgets you could want (if you lived in 2012).
Because I'm such a swell guy, I even found the perfect X6 M for your dad, Fritz. It's not terribly far from you in Nebraska, comes in right around your $20,000-ish budget and it's got less than 85,000 miles out it. Buddy, do the wrong thing. Get your dad a BMW X6 M. The right choices just aren't as fun.
Expert 4: Lawrence Hodge - Go Cheap, Go British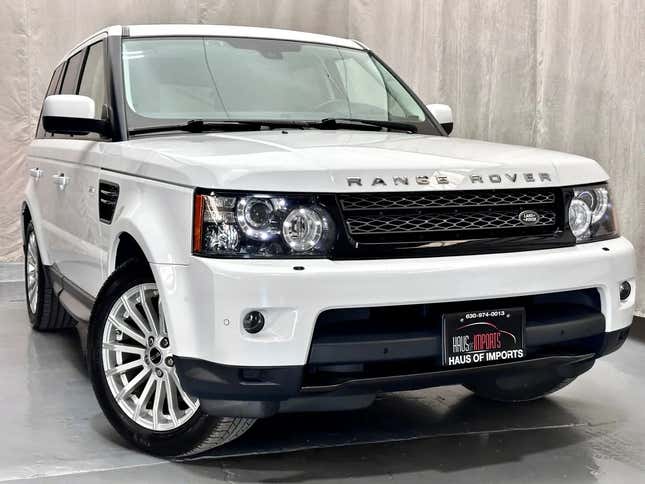 Coming from something as bland and vanilla as a Taurus, your dad deserves a vehicle with a bit more style and substance. Luckily we're now far enough into the 2020s that cars from the previous decade that offered both but might have been out of reach are almost comically cheap now. I think the perfect car for your father would be a first generation Range Rover Sport.
I don't mean the rip roaring Supercharged model, either. Those had some problems. I'm talking the more "basic" HSE trim. You still get the unique looks of the Range Rover Sport with all the British luxury that would come in a standard Range Rover. There's a 375 hp V8 under the hood, more than enough power for anyone, great visibility — it's a Range Rover after all. And if your dad wants to haul some stuff around, there are two rows of seating and 71 cubic feet of cargo space when the seats are folded down. And if you go this route you'll save a nice chunk of change. The example I found is a 2012 in great condition considering it has just over 110,000 miles on it. And it's a steal; the dealer is asking just $13,500.