Formula One driver Kimi Raikkonen is more than a national treasure. He brings chuckles worldwide, courtesy of his grumbling, hushed demeanor and leave-me-alone-I-don't-want-to-be-here-anyway attitude. That's why I'd like to cordially invite him to celebrate all of my major life events from here on out.

The GIF above is a shot of Raikkonen, with no shame, denying Ferrari teammate Sebastian Vettel a shot to spray him with champagne after winning the season-opening Australian Grand Prix. Raikkonen finished third, behind 2017 champion Lewis Hamilton.
But Raikkonen, the guy who says "bwoah" at big events just because and shows a hilarious lack of emotion in every language, prefers to drink his champagne when he's not mumbling about how he knows what he's doing or heading to his yacht after his car breaks during the biggest race of the season. He even ran off stage when Mercedes' Valtteri Bottas tried to spray him with champagne once.
He doesn't care if someone else is celebrating. He wants everyone to leave him alone and let him do his own thing.
G/O Media may get a commission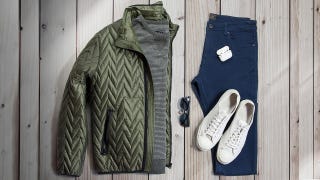 60% off
Jachs NY Fall Sale 60% Off
As a result, I'd like everyone to consider this a warm welcome for Raikkonen to join the celebrations that accompany any of my major life events from this point forward. It's nice to have someone there who isn't afraid to say what everyone's thinking with their exasperated reactions, because it's usually only fun to join people's celebrations of themselves if free food or alcohol is involved.
I've already graduated college and gotten married, so things are all downhill from here, but I imagine those celebrations would have gone about like this from Raikkonen's perspective:
"Why are you people all throwing all of your stupid, square hats that you paid too much money for to only wear once? What if one of them hits me?"
"Who decided couples should run through a tunnel of people throwing things at them after they get married?"
Oh, hm, those seem to be the only major life events I've had in 22 years. Check back for what kind of reaction I'd expect Raikkonen to have had when I win the lottery or ascend to royalty one of these days.
It's bound to happen, just like Raikkonen is bound to not attend my celebrations because he's off doing his own thing.