Call me crazy, but I believe if you're going to do a long road trip, you should do it in some style. So I'm driving this tastefully touched-up Porsche 964 from Austin to Los Angeles this weekend. I'm going to enjoy it immensely.
Mostly I'm doing this to deliver this car for a friend who just moved to LA, but I'm also headed there to review a few cars for the site. Keep an eye out for those soon.
I'm not stopping overnight anywhere, and am planning on only taking a little nap along the way somewhere. Luckily the A/C works, and the audio system is modern, so I can hook up my iPhone and Spotify.
Here's the course:
G/O Media may get a commission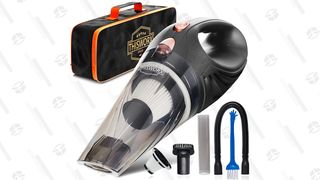 Save 50%
ThisWorx Car Vacuum Cleaner
The route itself is supposed to take just under 21 hours, and I'm not going to be going too fast. I'll have a Valentine One keeping an eye open for me too.

If you're curious about what's done to it, here are a few highlights: H&R coilovers and sway bars, full header-back fabspeed exhaust, uprated heat exchangers, Steve Wong Stage 1 chip, Cobb Evo 8 intake, color matched gauges (KPH indicated... nice), Ruf pedals, a duck tail spoiler, a Momo steering wheel, and a Harman Kardon & Infinity Kappa stereo setup. Not terrible.
Expect a full report soon. In the meantime, what do you want to know about this car, or the trip in it?
UPDATE Saturday 10:45 a.m.: This has not gone well, in case you're curious.
The 964 did NOT like high elevation. It was sputtery all the way to El Paso, once I got to about Van Horn. It felt like hitting the rev limiter, even though I was only going 85 or 90 mph. It's hot outside, and the thin air didn't help.
Once I was passing El Paso, it got smoother, but the funny thing is that the fuel economy went up from 19 mpg when I topped off during a longer stop in Van Horn, and is now at 23 mpg.
I'm now stuck in Las Cruces and the Porsche is dead. It wouldn't hold a start when I tried to go after my break. I had to swap a relay and a fuse, and even pulled the O2 sensor and disconnected the battery for a while. No dice.
We'll see what happens from here...