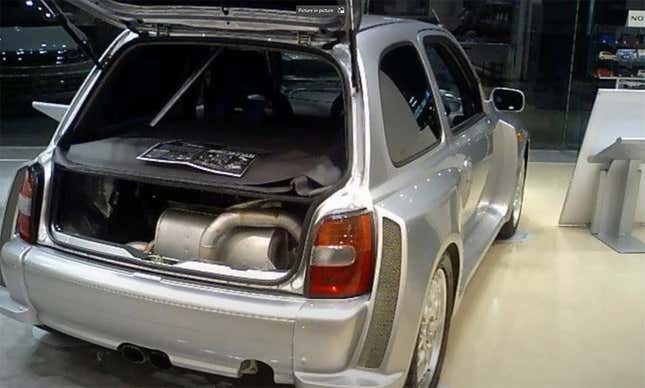 Any time you think you've seen it all in our wonderful world of cars, that's when the universe conspires to surprise you. Some years back our friend Patrick George reflected on this joy of discovery through the prism of the Autech Zagato Stelvio AZ1 — Nissan's bubble economy-era, coach-built spin on the Infiniti M30 exclusive to the Japanese market. Well, years later I'm feeling much the same way about another product of the company's Autech division; one I'm struggling to scrounge up damn near any information about.

This NYC Garage Takes Vanlife To The Next Level | Jalopnik Visits
In case you missed it:
This is the Autech Mid-11. It's a K11 Nissan Micra with a wide bodykit, six-speed manual and the two-liter, 187-horsepower four-cylinder out of the second-gen Infiniti G20 (a.k.a. Nissan Primera) in place of the rear bench. Fun fact: that was the same mill that wound up in the ASL Garaiya, a descendant of the Tommykaira ZZ.
The Nissan Micra was no stranger to motorsport, its potential recognized for entry-level rallying and ice racing. The V6-powered, all-wheel-drive version that competed in the French Trophée Andros series was a childhood favorite of mine in Rallisport Challenge on the original Xbox. That chassis also had its engine relocated behind the driver, which sort of leaves the Autech Mid-11 feeling like a homologation special of that little marvel. If nothing else, it's certainly a worthy descendant of the Nissan MID4.
Really though, the Mid-11's most obvious counterpart would be the Renault Clio V6 — a mid-engined, Porsche-tuned hatch that Nissan's future alliance partner actually did have the gumption to produce in series. The world's better for it. The Mid-11, on the other hand, was little more than a training exercise for Autech's engineers, according to copy translated by Google from a Japanese magazine.
I'd like to say more about this curiosity, but I'm not kidding when I tell you there's a worrying dearth of intel about it online. You'll have to peep Facebook for a slew of images of the thing from events that I don't have permission to post here. Just when you think you've seen all the cars that could ever find a place in your heart, a new one emerges.