Austin and I have our bags packed full of pork rinds, coors light and our good friend Jack — well, that's a lie — we actually finished our good friend Jack well before we packed up. But we'll bring Jack with us though, kind of like our own little mascot / friend / trainer to keep us company for the trip. It'll be adorable. But since you'll be without us for the next couple of hours while we're on the road to our first post-able pit stop — here's something to keep y'all company. It's a little contest Austin and I came up with for our Jalopnik and Deadspin readers to keep y'all company over the weekend when you're not reading our updates on the 'I Am Indy' mini-site or via the RSS feed. The winner will...

...receive a selection of swag from our trip — and let me tell ya — it'll be, at the very least "decent" but at the most...it...could...be..."epic."


So here's the deal folks — both Deadspin and Jalopnik feel a certain need, and it's a need for speed. Specifically, it would have to be the need for speed in our own personalized IndyCar. Since Chevy wouldn't give us one of theirs to paint, we were lucky to have found a great little tool over on Indy's website for y'all to use. So we need you, our loyal readers, to put together their bestest IndyCar for each of our respective sites — e-mail your results to tips@jalopnik.com — and remember folks, we'll need those cars before race time, so y'all have until the green flag drops at 1:00 PM Sunday afternoon.
G/O Media may get a commission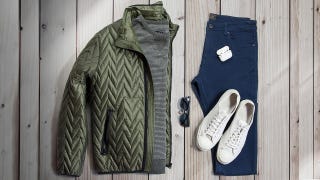 60% off
Jachs NY Fall Sale 60% Off
Paddock: Design It [IndyCar]
Related:
More I Am Indy [internal]