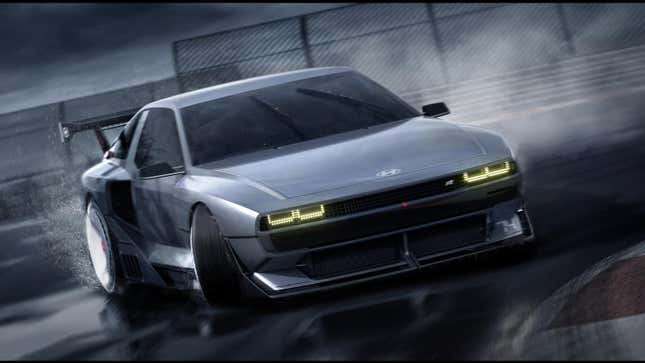 Last year, Hyundai revealed the N Vision 74 concept, a retro-styled coupe that paid tribute to the Giugiaro-designed 1974 Hyundai Pony Coupe. Not only was the N Vision 74 concept gorgeous, but it also packed a hydrogen powertrain that made 670 hp and 664 lb-ft of torque. We desperately wanted to see it go into production, possibly even with a different powertrain. We heard rumors it might actually happen. Then Hyundai said it's not happening. But maybe that was also wrong.
Speaking to Top Gear, Luc Donckerwolke, chief creative officer for Hyundai, said, "I hate show business. I hate doing show cars and then — nothing." And when asked if the N Vision 74 could be put into production, he added, "Absolutely. We are serious about this. This could come into production. We have the platform — it's a motorsport platform."
That's not exactly an official announcement, but at the same time, it leaves the door open for a production N Vision 74. Donckerwolke then went on to add more fuel to the fire, suggesting that upper management was at least interested in a production version since the concept had their blessing from the beginning. "It's something that came from management," he told Top Gear. "It's always good when the management is telling you [to do it]. There is nothing unfeasible about this car. It's pure. We're hoping and we're working and it's only a matter of the right constellation."
If Hyundai does ever put the Vision N 74 into production, Donckerwolke said it would be a "limited series." So you probably won't ever be able to head down to your local Hyundai dealer and take one for a test drive while your Sonata's being serviced. But still. It's a cool car that deserves to be built. Hyundai could use a halo car, and the Vision N 74 should be it. But whether it ever happens or not, we say it's time for Hyundai to make a decision. Either build it or don't, but please stop teasing us, Hyundai. This maybe-but-no-but-maybe business is too much for us to handle right now.